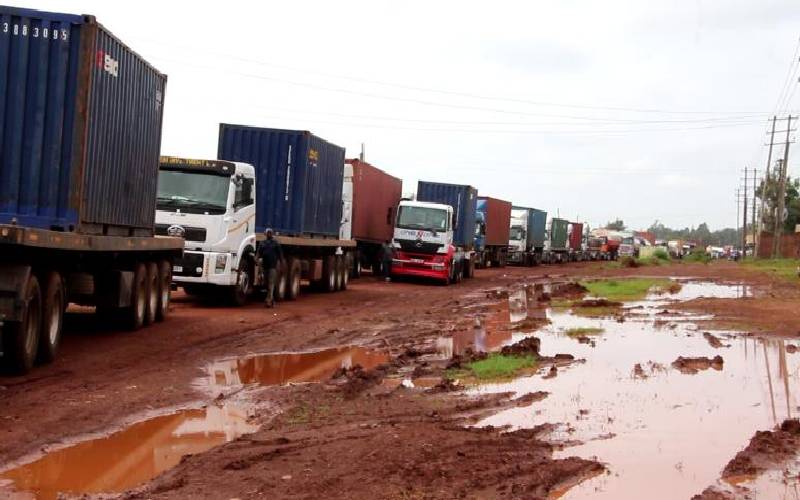 The Ministry of Health has delivered reagents to aid the testing for Covid-19 by truck drivers stranded at the Busia and Malaba borders.
Testing for long-distance drivers has not been done for at least three weeks due to what officers from the Public Health Department said was the unavailability of testing kits. Lack of testing has resulted in huge snarl-ups of heavy commercial vehicles on the busy Busia-Kisumu and Malaba-Bungoma highways.
Digital systems
Joshua Arusei, the head of Port Health that is at the Busia border, said testing of truck drivers had resumed.
Read More
"We have received reagents from the Ministry of Health, which will sustain us for some time," said Arusei.
Confirmation of availability of reagents came just two days after Principal Secretary in the Ministry of Information Communication and Technology Jerome Ochieng' called for urgent implementation of digital systems to facilitate the clearance of trucks at the borders.
Mr Ochieng' was in Busia to assess projects the Information ministry was undertaking as far as internet connectivity in the region was concerned.
More than 300 samples are taken to the Kenya Medical Research Institute in Alupe for testing and results are released to drivers after 24 hours.
"The traffic on the road should be cleared by end of this week because we have increased the time of collecting samples from truckers from morning to 6pm," said Ochieng'.
The snarl-ups were a clear indicator that drivers were not being tested at their point of loading cargoes, as the government had directed, with the view of reducing congestion in border towns.
By Sunday, the stretch along Busia-Kisumu highway had extended to Bumala.
According to Jack Tando, a trucker who had to stay on the queue for the last two weeks, there is an urgent need for the government to ensure seamless flow of trucks at the Busia and Malaba borders.
He, too, was not tested at the point of loading. "I do not know when I will cross the border because I have been in Busia for the last two weeks," said Tando, who ferries dry cargo to Kampala, Uganda.