State yet to close Teso South sand gully as locals differ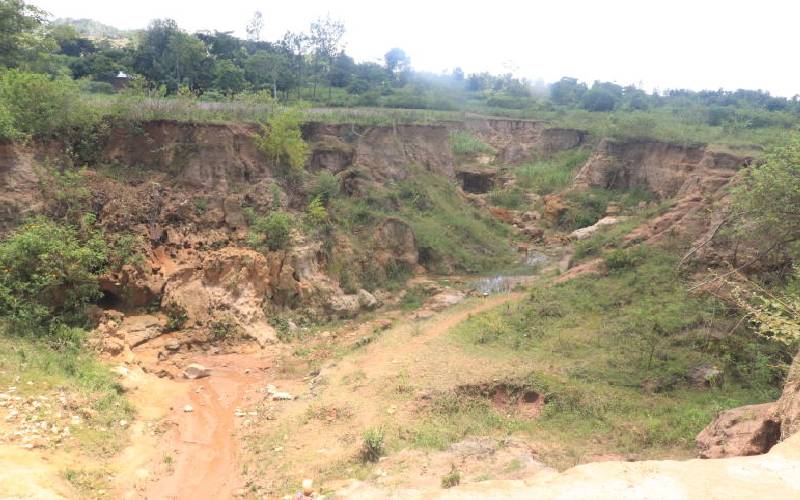 The government is yet to close an open sand harvesting gulley at Osipata in Teso South despite calls from a section of locals that they be closed.
Locals who want it closed say it has cut off movement of people and animals between Akitesi and Achit sub-locations.
Despite calls by some locals for the closure of the gully and bamboo trees planted in it, others have opposed it arguing that harvesting sand is an economic activity.
The gulley measuring about 20 metres (depth) by 200 metres (length) emerged due to heavy downpours.
Officials from the National Environment Complaints Committee (NECC), Water Resource Authority, Kenya Water Towers Agency and the National Environment Management Authority (Nema) toured Osipata to assess the level of damage the soil erosion has caused in the area and the dangers the valley poses to locals.
Ministry of Environment Chief Administrative Secretary Mohammed Elmi who attended the function observed that there was a need for the locals to plant bamboo trees to offer a long term solution to the perennial soil erosion.
Mr Elmi observed that sand harvesters will have to adhere to the strict guidelines to be put in place with the view of protecting the environment.
Osipata Primary School headteacher Rosalia Ejoyi lamented that students from Akitesi are forced not to attend classes during rainy seasons since they cannot cross the valley.
"It is a disaster in waiting and that is why we are urging the government to plant trees inside that valley and on the hilltops to prevent soil erosion," said Ms Ejoyi.
Peter Epukor, one of the locals opposed to the valley's closure asserted that the sand usually settles in the valley from the hills whenever there is rainfall.
"We are feeding our families through the sand we sell therefore we shall not accept the valley to be closed as it will render us jobless," said Epukor.
He continued," What we want is the government to construct the bridge across the valley to ease movement of people and schooling going children."
Elmi and John Chumo from NECC appealed to Teso South residents to accept bamboo trees planted on the hills noting that the benefits of the trees were numerous.
"Bamboo protects the environment and soil erosions, the best way to curb gullies in the area is by planting the trees on the hilltops and inside the big valley," said Elmi.