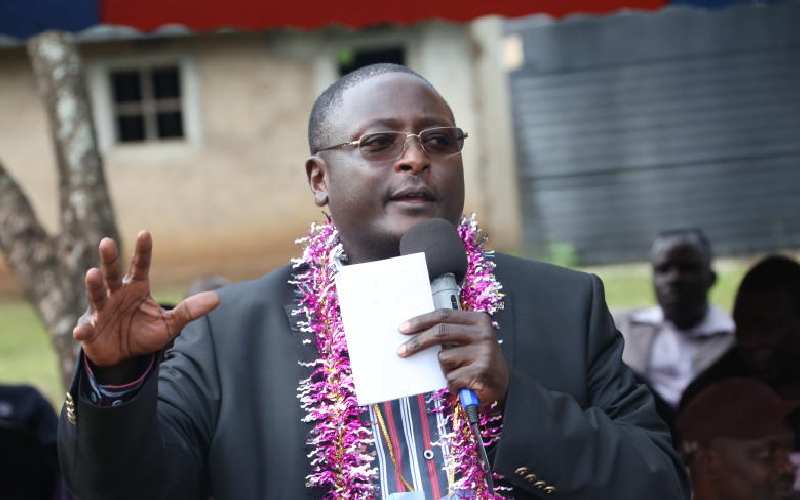 Vihiga Governor Wilberforce Ottichilo and his Senator George Khaniri (pictured) have clashed over disputed Maseno town boundary.
While Ottichilo wants Kisumu County Government to proceed with its Sh40 million infrastructural development of the border town, Khaniri wants the programme halted until the boundary dispute is resolved.
Last Thursday, Kisumu Governor Anyang' Nyong'o presided over the launch of infrastructural development barely a year after upgrading the status of Maseno to a town.
And with the both Kisumu and Vihiga counties laying claim to the town which was set up as a missionary centre in early 1900, the battle has now shifted to Vihiga with Khaniri now seen as a stumbling block.
Read More
Currently, the town and its environs fall under Kisumu County, both administratively and politically.
But Khaniri yesterday insisted that the boundary dispute between Kisumu and Vihiga counties be sorted out before any project kicks off.
He noted plans to upgrade Maseno to an education centre and town are a concern to both the leadership and people of Emabungo Ward in particular and Vihiga County at large.
"As the area senator, I have raised this issue in Parliament severally, most recently in the 11th Parliament through a request for statement and as a public petition in the 12th Parliament," he said.
The senator said one of the concerns raised by the locals in Emabungo ward is that Kisumu County Government is only interested in public institutions such as Maseno University, Maseno School and Kenya Forestry Research Institution, and not the needs of the local people such as roads, bursaries and administrative services.
He said it would be prudent for Kisumu County to ensure that the boundary question in Maseno is resolved amicably before embarking on any development.