Widow recalls last moments with Church of God archbishop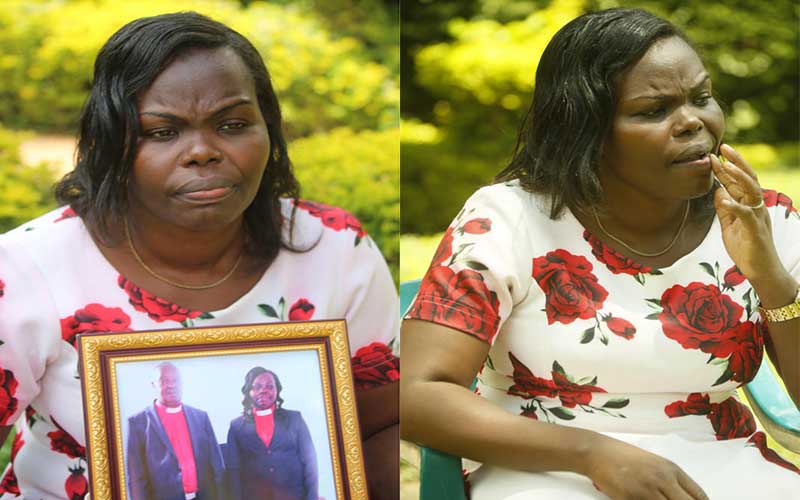 Founding Archbishop of the Church of God of East Africa, Byrum Akhaenda Makokha was a man loved and hated in equal measure during his tumultuous reign as the head of the church for the last 50 years.
The charismatic man of God took over the mantle of leadership of the church founded in 1905 after the exit of the white missionaries.
Dr Makokha, 88, who died on August 25 at Aga Khan Hospital, Kisumu, had a following of over one million followers in the region, majority of them from Western Kenya where the headquarters of the church is located; at a rural village of Kima in Luanda Sub-County.
Good health
According to his wife, Grace Hoka Makokha, her husband died while undergoing treatment at the hospital's Intensive Care Unit. He leaves behind five children and many grandchildren.
"My husband has always been in good health since we got married until July 25 when he felt unwell and requested to be taken to Aga Khan Hospital to see his doctor. Upon examination, he was found to be having high blood pressure leading to his admission," said Rev Hoka.
Doctors managed to lower his pressure and was due for discharge on August 1, but developed a muscle inflammation, occasioning a minor surgery.
"The wound was healing well but last week, he developed fever and after a CT Scan test, doctors discovered water in the lungs (pulmonary edema). He became weak and was admitted to the ICU where he died on August 25," his wife narrated during the interview at Ibubi village in Luanda Sub County.
Makokha married Hoka in 2014 in a controversial wedding at the church headquarters under tight security. This was four years after the death of his first wife, Joy Adava Makokha, in August 2010.
The choice of the 35-year-old bride angered the faithful including some pastors who attempted to stop the wedding on grounds that the wife-to-be was young for him. They preferred an elderly woman. They argued that the bride was the age of his grandchildren.
Paid up
However, the wedding went on but it was not open to the public. Members of the media too, were not afforded an opportunity to record the memorable moment.
Hoka had just graduated from Kima School of Theology.
Makokha's death comes at a time when the church was sharply divided over his move to sell land that belongs to the church located at Makadara in Nairobi. Those who opposed the sale were ex-communicated by the clergy in a paid up advert in leading local dailies in the country.
Even at Buruburu Church, there was controversy pitting Makokha and the flock in with the matter ending in court. Infuriated church members went a notch higher and welded doors leading to the pastor's office.
That is not all. He was also embroiled in a land feud with Muriithi Mwenje, son of ex-Embakasi MP David Mwenje who had given the church a portion of land back in 2004.
However, his family has maintained that Makokha was just concerned about instilling sanity to "members of the church who were going astray'"
"I am a member of the church and haven't seen my uncle being involved in any controversies. Church of God is a mainstream church with its doctrines, which are strictly followed and the church cannot bow down to ideologies propagated by youngsters," said Kennedy Akhaenda, his nephew.
The church is also divided on who would replace the Archbishop and church leaders who sought anonymity told The Standard that before he died, he had changed the constitution so that one of his family members would take over the mantle.
"As a family, we don't have an heir apparent to the Archbishop seat. The church has its constitution and structures, that has nothing to do with us. We shall adhere to the constitution and what it says on leadership transition," said Akhaenda.
Rev James Obunde, the Deputy Archbishop in charge of Administration said Makokha will be buried on September 12.