DPP temporarily stops prosecution of county secretary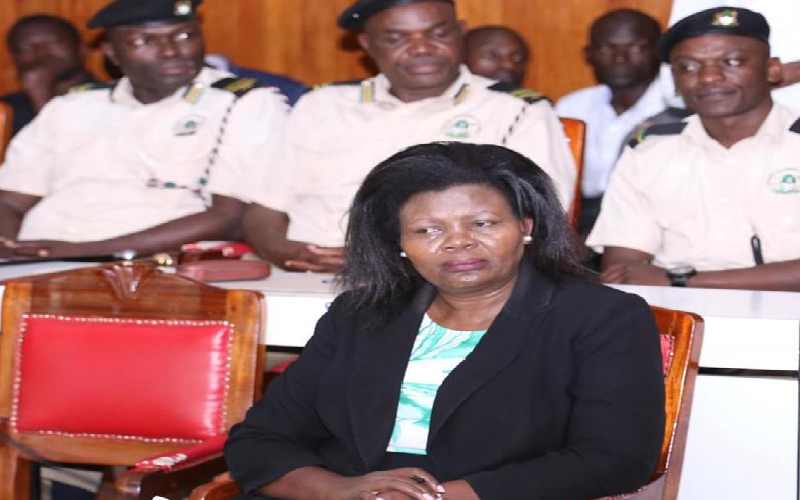 The Office of the Director of Public Prosecutions (DPP) has temporarily stopped the prosecution of Kakamega County Secretary Jacinta Aluoch.
The official was expected to appear at a Kakamega court yesterday to answer to charges of issuing death threats against a section of the county employees, abuse of office and four other counts. But the DPP ordered the file to be returned to Nairobi for perusal and further directions.
Aluoch allegedly issued death threats against County Executive Committee Member for Public Service Beatrice Saban and Joshua Kutekha, an accounting officer in Governor Wycliffe Oparanya's office.
Other complainants are Peter Lukoye, a former chief officer in the Department of Public Service and Administration and Michael Mukolwe, a former Transport officer in the county.
Aluoch is facing another charge of abuse of office, where she is accused of facilitating the payment of allowances and other benefits to her personal driver and two armed bodyguards as well as putting them on the county payroll system, yet they are not county employees.
The complainants had questioned Aluoch's contravention of County Governments Act as well as the Salaries and Remuneration Commission directives on who should be on the county payroll when she allegedly threatened them.
Aluoch was arrested on June 11, this year while at the county offices by sleuths from the Director of Criminal Investigations - Western Region and is out on a police cash bail of Sh100,000.
Patrick Gumo, the senior assistant director of Public Prosecutions for Western Region ordered for her arrest and prosecution on June 9, this year.
"Investigations and records show there is overwhelming evidence to warrant charge and prosecution of the county secretary,'' read part of the DPP's letter.