Busia County has established more isolation centres for sick truck drivers as coronavirus cases rise.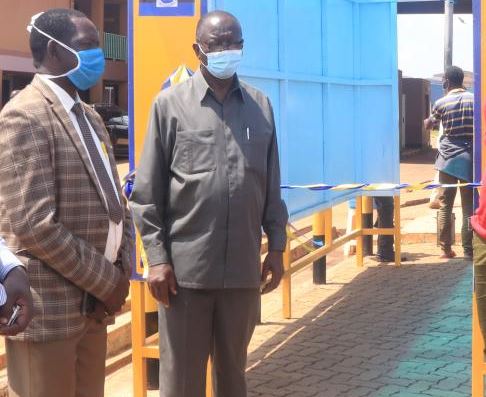 So far, Governor Sospeter Ojaamong's administration has identified Agricultural Training Centre (ATC) and St Monica Chakol as additional centres.
The facilities have bed capacities of 42 and 200, respectively. Another 50 beds have been added at Alupe that had a 71-bed capacity.
The county has been engaging the national government over possibility of converting the Kenya Medical Training Institute in Busia into another isolation facility to handle rising numbers.
But chief officer-in-charge of Health and Sanitation Isaac Omeri indicated that only asymptomatic patients would be accommodated at the ATC. On top of the preventive measures put in place by the county government, five hotels have been identified in Busia town where truck drivers can put up and six others in Malaba border town.
Dr Omeri said the hotels were specifically for truck drivers to help minimise scenerios where they mingle freely with locals.
By yesterday, Busia had recorded 178 positive cases, all of them truck drivers.
"We expect the number to go up in coming days. That is why we have decided to get alternative places for patients to be held as they get medication," said Omeri.
The county has mounted disinfectant booths and spray tunnels in strategic places, particularly at the Busia and Malaba border posts, for use by clearing agents and truck drivers.
It has also erected water tanks and provided soap for locals to wash hands regularly.
Food vendors
Following complaints from a section of locals that some food vendors were hawking food to truckers, the county has launched sensitisation programme aimed at educating the sellers not to have close contact with drivers.
"It is a matter of great concern because some drivers mingle with locals before even knowing their status. We are telling our people and specifically those selling food and fruits to avoid getting into close contact with truckers to avoid contracting the virus," said Omeri.
The Ministry of Health in March identified truck drivers as a weak link in the fight against coronavirus.
For the last three weeks, Busia town and Malaba have been chaotic due to trailer snarl-up.
Uganda has so far returned at least 50 Kenyan truck drivers who tested positive. The county by Thursday had tested more than 7,000 truck drivers.
On Tuesday, Governor Ojaamong and County Commissioner Joseph Kanyiri announced that a driver without a certificate to show they are Covid-19 free would not enter the county.
They said drivers would bear the cost of fumigating their trucks. The response team established that some drivers had no certificates.
Shortage of reagents, personal protective equipment, ventilators, face masks and fewer health care providers have remained the biggest challenges in the fight against coronavirus in the county, said Omeri.
Yesterday, he said the department was keen on paying the heath care providers their subsistence allowances.
This is after some frontline workers lamented that their morale was low since the county was yet to pay them their allowances.
The affected cadres include doctors, nurses, public health officers and laboratory technologists.