Fears at Malaba border as eight sick drivers dumped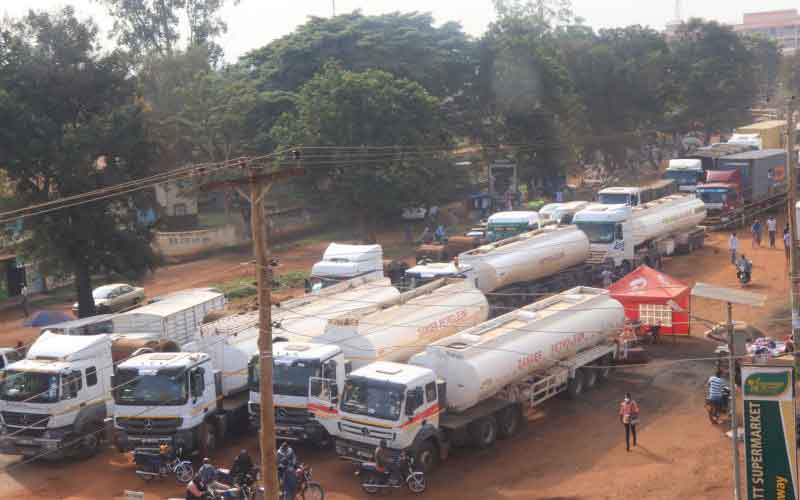 Busia County is grappling with soaring cases of truck drivers testing positive for the infectious coronavirus.
By Tuesday, the county had recorded 72 cases before eight more patients who tested positive in Uganda were dumped at the Malaba border by Ugandan authorities.
More than 10 patients are still waiting for confirmation of their status at Alupe isolation centre.
Since there was no place to isolate the eight victims for treatment after Alupe centre with a 71-bed capacity got filled up, they had to do with a room at Malaba border.
David Mukabi, who is leading the fight against Covid-19 in the county confirmed to The Standard yesterday that the eight patients had been returned from Uganda. He admitted there was no place to hold them, but response team was looking for an alternative place.
"It is true Uganda returned eight truck drivers who tested positive, response team in the county is aware and so is the National Emergence Response Committee in Nairobi," said Mukabi.
Busia had identified at least 28 quarantine facilities and one isolation centre in Alupe Sub-county Hospital. Medical services at Alupe were suspended and patients directed to seek treatment at the county referral hospital.
Governor Sospeter Ojaamong on Tuesday was categorical that the county does not have resources to set up another isolation centre to accommodate the growing number of positive truck drivers.
"Our facility in Alupe and medical staff are overstretched and we have no resources to set up a new holding place for the truck drivers," said Ojaamong.
The governor urged national government to address the issue about soaring number of ailing drivers the county is recording.
"The county has been placed at even greater risk and burden of Covid-19 spread because the Government allowed transportation of goods to Uganda and other East Africa countries through Busia and Malaba borders," said Ojaamong.
On Tuesday, Ojaamong and County Commissioner Joseph Kanyiri at a news conference directed that police officers be deployed at all points to ensure only drivers with Covid-19 certificates enter Busia.
Following the announcement, truck drivers rushed to gain entry into Busia to avoid being locked out. The rush resulted in chaos in Busia as the road leading to Customs was blocked by trailers.
"The drivers have continued to gain entry into Busia without certificates to prove they are free from Covid-19 and this is dangerous," said Ojaamong.
Juma Saleh, a driver said he did not undergo testing before leaving for Busia on grounds that Uganda would still subject him to the same exercise.
"Taking samples is painful, so why should I test in Mombasa and on reaching the border, still get tested in Uganda?".