Life in hell for truckers stuck on road to Uganda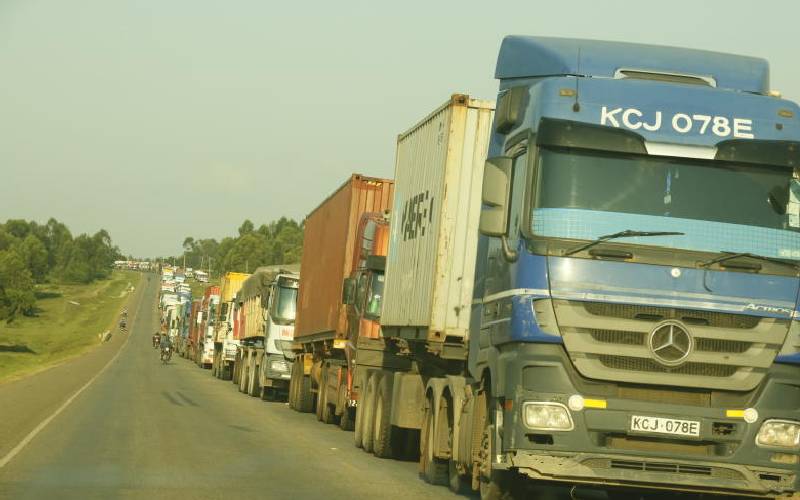 Life was predictable for Mr Moses Kerer, a truck driver. He used to pack enough water, milk and snacks before embarking on his long journey to Uganda.
Since he had to freshen up frequently, he had to carry a lot of water. Along the road on his stops, he would reunite with friends, people he had met in the line of duty. Kerer would sleep comfortably in guest houses before proceeding on with his journey.
But that was before the coronavirus kicked up a deadly pandemic that has turned life, as we knew it, upside down.
Life on the road has become a nightmare for Kerer and his colleagues. Nobody is willing to admit them in a guest house for fear of 'welcoming the virus'.
Businesses thrived in border towns as many activities depended on him and his colleagues but now, they are seen as agents of the virus and no one wants to be associated with them.
Kerer is now forced to sleep in his truck, together with his turn-boys.
"It is hard to buy painkillers along the way particularly once you are within Uganda," he said.
Kerer has not visited up country to see his family for fear of being victimised by villagers who know him as a truck driver.
Kenya closed the border with Uganda in March for human traffic but for Kerer, he wishes the border can also be closed for heavy commercial vehicles until the virus is contained.
Another driver James Ang'ila is not happy with the way they are being treated by Ugandan authorities.
Upon arriving in Busia on Saturday, he walked straight to a tent set up on the Uganda side to be tested for Covid-19. He expected the results to be out by Sunday.
By yesterday, however, Mr Ang'ila was yet to get his results and therefore cannot cross to Uganda. Delayed results have occasioned a huge trailer snarl-up in Busia and Malaba borders.
Previously, samples were being taken from drivers at the Busia One Stop Border Post (OSBP) on the Ugandan side and then allowed to proceed with their journey but things changed.
Drivers have to park on the Kenyan side and walk to Uganda for samples to be taken.
Travel allowances
"What we are witnessing is outright frustration from Ugandan authorities. Some of us have exhausted the travel allowance we were given by our employers," said Ang'ila.
Although the Ministry of Health issued a directive that no Kenyan truck driver would leave a point of loading to any border before undergoing mandatory Covid-19 testing, the Ugandan government has refused to accept the results from Kenya.
"Unless you are tested by the Ugandan government, you will not cross the border so what is the essence of undergoing the test in Kenya when you will be subjected to the same exercise at Busia or Malaba border? Posed Ng'ila.
He added: "We walked to Uganda to ask about the results but were chased by Ugandan police."
Mr Abdulkadir Ibrahim shared the same frustrations. Just like Ang'ila and many others, he is yet to get the results after samples were taken on Monday. Ibrahim is also accusing Ugandans of discriminating them. "Once we cross the border, there is no stopping, even for a short call, until you reach your destination. That is the instruction you are given as you cross the border into Uganda," he said.
"We are also experiencing same mistreatment from our fellow Kenyans. It is hard to walk out of the trailer and move to buy something because no one is willing to receive cash from us," he added.
Big dilemma
At the same time, commercial sex workers in Busia led by their chairperson Caroh Kemunto said the dusk-to-dawn curfew had made customers keep away.
However, with increasing cases of truck drivers contracting the virus, they have found themselves between a rock and a hard place.
According to Ms Kemunto, on May 2 they lost a colleague who was knocked down by a speeding vehicle in town while looking for a client. "We know we are at risk of contracting the virus from the truck drivers but we have no option since the government has not reached out to us with any support," she said.
Meanwhile, Teso North MP Oku Kaunya wants movement of truck drivers at night stopped.
Chief Officer for Health and Sanitation Isaac Omeri said asking the drivers to get tested in Kenya will encourage the spread of the virus.
When The Standard visited the border town yesterday, we found out that for the last 10 days, truck drivers have been sleeping by the roadside to ensure the goods worth millions of shillings they were ferrying to Uganda and other East African countries are not stolen.
They cook by the roadside and shower in thickets. Here, they aren't observing social distance and many do not have masks.
Douglas Mungai, a driver, said he has been camping at Kocholia shopping centre in Teso North for the last five days.