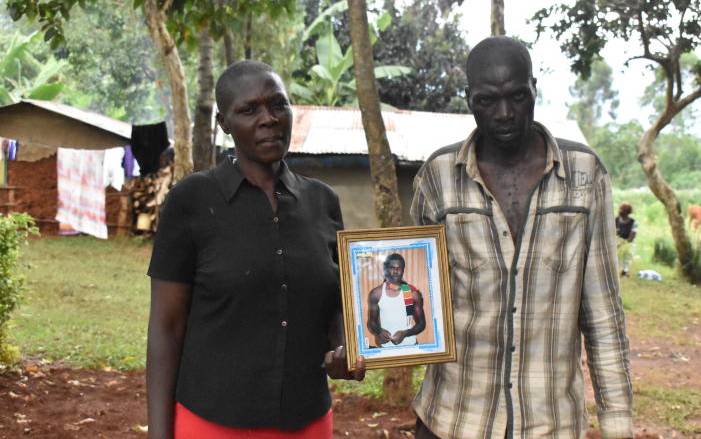 A row is simmering between Kenya Wildlife Service (KWS) rangers and residents of Shinyalu who live around Kakamega tropical rain forest.
The rangers have accused locals of destroying the forest through illegal charcoal burning, logging and grazing.
The locals claim the rangers raid their homes in the wee hours, brutalise, rape them and take away their valuables.
The most affected families live in Buyangu, Ivakale, Ihondolo, Andukhula, Mukuywa, Virembe, Solio, Kambi ya Mwanza and Shamiloli villages.
Locals claim KWS informers among the villagers identify homesteads to be raided.
One person was allegedly shot dead by the rangers about three weeks ago following a raid on a village at around 6am.
Kevin Litsalia, 28, from Shamiloli village, was shot dead on April 27.
"We were woken up by sounds of gunshots on the fateful day and we wondered what was happening in the neighbouring homestead. We thought police were pursuing criminals," said Henry Matekwa, who lost a son.
He added: "My son (Litsalia) rushed to the scene and 15 minutes later we received information that he had been hit by a stray bullet fired by one of the KWS rangers. The officers were on a mission to arrest some villagers over claims that they had collected firewood inside the forest."
Matekwa claimed that efforts to seek justice for Listalia had been futile, as they are always turned away by police officers at Shinyalu Sub-county police station.
Margaret Muhenje, the mother to Litsalia, said they buried him hurriedly due to the Covid-19 guidelines. She reads foul play in the killing since the police at Shisasari police station have been reluctant to take their statements on the matter.
"They usually tell us the investigation is ongoing yet they never took our statements," she said.
Received threats
The family claimed it had received threats to drop the matter or face dire consequences. "It is a struggling family that cannot even afford a lawyer to help them get justice," said Adrian Mejja, a neighbour.
Mejja said the officers had been raiding their homes without a search warrant.
On April 22, KWS officers raided the homestead of pastor Boniface Madegu, 46, in Ihondolo village, Muranda location.
"I was ordered to open the door at around 5.30 am by a person well known to me. I told him to wait a few minutes while I dressed up but they broke the door and came straight to my bedroom," said Mr Madegu.
He claimed eight rangers armed with AK47 rifles and two locals ransacked his house and took away Sh8,000, which was proceeds from sale of maize.
"They handcuffed me and took me out of the house while raining blows and kicks on me. I screamed for help attracting neighbours who joined my wife and children to rescue me," he said. He alleged that the rangers slashed him thrice on the forehead, accusing him of destroying the forest.
He added: "They shot in the air twice to scare away the villagers who scampered for safety. My pregnant wife, Adelaide Ingado, 44, was kicked in the stomach after she attempted to free me. She fell unconscious and started bleeding."
Officers from Shisasari Police Station rescued them at around 7.30am and took them to hospital. He reported the matter vide OB20/22/04/2020.
The wife, who slipped into coma for a week, was admitted to Kakamega County General Hospital. She was discharged three days ago.
After undergoing a CT scan, medics found out that the foetus had died in the womb and removed it. The couple incurred a bill Sh15,400.
The matter was booked at Shisasari police station vide OB24/22/04/2020. No one has been arrested in connection with the matter.
Metrine Luchetu, 23, was collecting firewood near the forest when she was confronted by the rangers informer.
Not having proof
She was beaten, and her right hand fractured in November last year. The matter was not reported to the police after she was threatened with dire consequences. Luchetu alleged that her sister-in-law was raped a few months ago and left for dead near the forest.
The victim received death threats after attempting to expose her attackers, forcing her to flee to Nairobi.
Boda boda riders saved Ferdinand Milimu, 62, when 12 rangers attacked him. Mr Milimu had questioned why the rangers were erecting a signpost on his plot.
"Six of the 12 KWS rangers had AK47 riffles. They ordered me to keep quiet and if I dared distract them from doing their work, I would face dire consequences," he claimed.
The man said one of the officers stripped him naked in front of his children and "it was at that point that onlookers got agitated and decided to battle the rangers who fled."
Residents accused the rangers of raping women found collecting firewood in the periphery of the forest and even in designated areas where they are allowed to venture.
They are now calling on Environment Cabinet Secretary Keriako Tobiko to intervene and have the culprits arrested and prosecuted.
What has baffled villagers is the impunity with which the attacks are executed given that they are carried out between 12am and 5am.
The rangers allegedly attack the villagers despite not having proof linking them to logging, charcoal burning and other ills in the forest.
Report the matter
Kakamega County Police Commander Hassan Barua said he was aware of some of the cases, saying many had gone unreported, making it difficult to launch investigation.
"I am aware of the shooting incident where Kevin Litsalia was killed by a stray bullet. We have taken their firearms for ballistic examination to ascertain who shot the young man before prosecution can be done. I'm still new in the county but I promise to crack the whip," said Mr Barua.
He appealed to Shinyalu residents who were assaulted by the KWS rangers to report the matter to police stations near them.
KWS, through the acting head of corporate communications Paul Mburu, argued that there had been a lot of logging at the forest and that their work was to protect it.
"We are not aware of any killings, save for the 30 people who were arrested due to illegal logging and have been arraigned," he said.
According to Mr Mburu, they were only aware of one person who was handcuffed and fled but was later arrested and arraigned.