Seven killed, thousands displaced as floods wreak havoc in Western region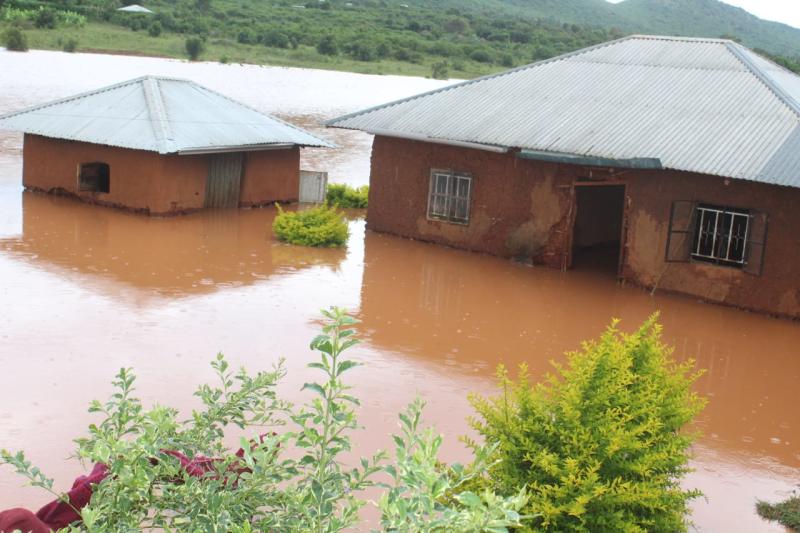 At least seven people have been killed in the last 24 hours as ongoing heavy rains, resulting in raging floods, continue to wreak havoc in Western region.
Five of them are from Bungoma and the other two are from Busia County.
The raging floods have since displaced over 9,619 households, which translates to over 57,700 people. At least 700kilometers of the road network in the region has been destroyed by the floods.
A spot check by The Standard also established that over 3,300 acres of cash crops have been washed away, as well as 1,586 houses. Three health centres and an institution have since been closed down after they were submerged.
Some of the crops that have been washed away include maize, beans, cassava, groundnuts, sorghum, soya, sweet potatoes, tomatoes and sugarcane as well as livestock.
According to the Western Regional Commissioner, Anne Ng'etich, Busia County has been adversely affected by the flash floods as over 42,527 people have been displaced followed by Bungoma with 11,882 people. Kakamega and Vihiga counties have so far recorded a total of 3,290 and two cases respectively.
"Budalang'i constituency is the worst hit area since it has been marooned by water. Evacuation of victims to safer grounds is ongoing. We have deployed eight lorries with security officers and three motorboats to help in the evacuation exercise," said Ms. Ng'etich while addressing the press in Kakamega town on Thursday.
She noted that the flooding in Budalang'i was caused by the backflow of water in Lake Victoria.
Matungu, Mumias East, Mumias West, Navakholo, Lugari and Likuyani sub counties of Kakamega have been classified has high risk areas since they have been adversely hit by the raging floods.
In Bungoma - Bumula, Webuye West, Bungoma East and Cheptais are prone to floods and landslides whereas in Busia- Bunyala (Budalang'I constituency), Teso North and Samia sub counties are high-risk areas. Hamisi Sub County in Vihiga County has also been hit by floods.
"People living in water ways especially along River Nzoia, Malakisi River, Lusumu, Yala, Kipsangui River, and Malaba River and on the shores of Lake Victoria are hereby advised to leave immediately to move to safer grounds. The rivers have been classified as high risk rivers after bursting their banks," said Ms. Ng'etich.
She added: "We have over 150 families whose houses have been marooned by water from Lake Victoria in Budalang'I but have refused to move to safer grounds. We are going to forcibly evict them from their homesteads to safer grounds. We don't want to lose more lives to the floods."
Ms. Ng'etich said the government will embark on distribution of food stuffs and non-food items to the victims.
She added the government has also started distribution of facemasks, soap and hand sanitisers to the flood victims as a way of curbing the spread of Covid-19 disease in the camps where flood victims are staying.
Bungoma County Metrological Director, Noah Eledi, said all people living along riverbanks and lowland have been advised to move to higher grounds for their safety, adding that the ongoing rainfall is above normal.
"The ongoing heavy rainfall is more than 30mm and is being experienced in several parts of the country. In Western Kenya, the rainfall intensity will progressively increase to 40mm and is likely to be accompanied by lightning and thunderstorms," said Mr Eledi in his weekly updates.