Police release mother and two-month baby from quarantine after public outcry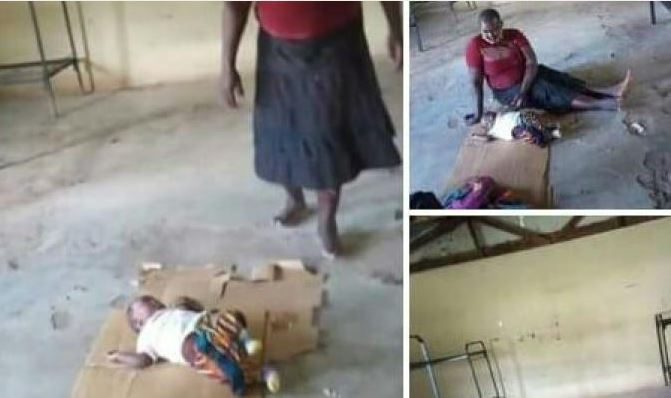 An asthmatic mother and her baby who spent a cold night on the floor after being forcibly quarantined in Busia County have been released.
Carolyne Akumu and her two-month-old baby were arrested by county enforcement officers at 5pm on Wednesday as she went collect two sacks of sweet potatoes from Busia town.
According to her husband Ernest Alunya, who was away when his wife and child were arrested, Ms Akumu has been selling sweet potatoes for more than a decade and was collecting the consignment for sale the following day.
Akumu had taken her baby along with her when she was arrested and whisked away to Nambale Police Station, where she was bundled into a waiting police vehicle and taken to Kisoko Girls' Secondary School, one of Covid-19 quarantine facilities in Busia. According to Akumu, nobody told her the reason for her arrest.
Mother and baby arrived at the deserted quarantine facility at around 9pm and were immediately ushered into one of the dormitories whose metallic beds had no mattresses or blankets.
Mother and child spent the night on the floor, curled up on a piece of carton that Akumu fished from one corner of the dormitory.
"The room was very cold, the window panes were broken. I was worried my baby would suffer pneumonia," she told The Standard.
Akumu was released yesterday morning following angry reactions from Kenyans online who questioned the rationale of detaining the mother and child inside a school dorm that lacked proper facilities.
Governor Sospeter Ojaamong's administration has distanced itself from Akumu's arrest, saying the matter should have been handled differently, and Akumu and her child should not have been put in a quarantine facility.
"The county government of Busia is not responsible for her arrest. This is the role of the security personnel who are under the national government. We believe this case should have been handled differently," read a statement posted on the county's Twitter handle.
However, Nambale OCPD Walter Abondo defended the arrest, saying Akumu and another person were arrested for disobeying public health regulations.
"They were arrested by a multi-agency team for defying the orders and taken to a quarantine facility. The two were released on free bond and allowed to go home," said the OCPD.