Sugar miller fumigates virus-prone areas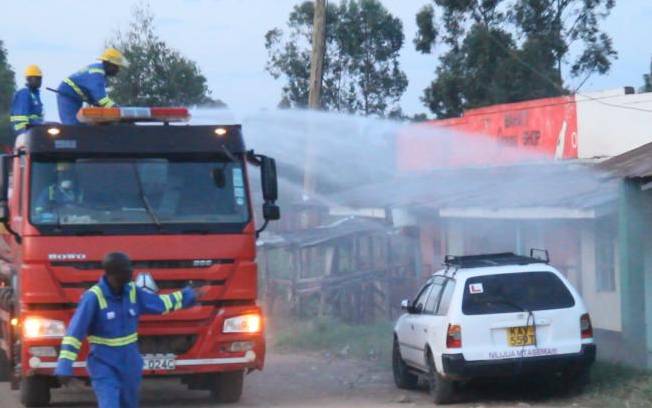 West Kenya Sugar Company in partnership with the County Government of Kakamega has started fumigating all open-air markets and shopping centres as part of measures to contain coronavirus.
Other targeted areas are bus stops, shops, public resting places as well as areas with high social gathering. The miller is also distributing relief food to poor and vulnerable families within its catchment area.
The fumigation started on Tuesday in Lubao, Cheboso, Ingavira, Kambi Mwanza and Malava markets.
Addressing the media yesterday, West Kenya Human Resource Manager Duncan Abwao said the company had mapped out areas prone to the deadly virus, noting the exercise will go on for the next 14 days.
"We will do our best to ensure we disinfect all the mapped areas to contain the spread of Covid-19. We are also doing door-to-door sensitisation of the community on the need to observe high hygiene standards," said Mr Abwao.
Hand washing
The miller has also erected hand washing stations in all the mapped areas.
Abwao said the company has banned all meetings at the factory and its 10-member committee appointed to ensure the disease is contained will meet while complying with social distance.
The sugar miller's General Manager, Sankar Sripada, said the company had given out its fire engines to the county government to help in the fumigation exercise, saying the collaboration will go a long way in ensuring the locals are safe from Covid-19.
Malava Sub-County Public Health Officer Fred Amudavi said a Covid-19 committee had been set up to ensure the public is educated on the importance of keeping social distance and maintaining good hygiene.
Mr Amudavi commended the sugar factory for its efforts and urged other corporates to come on board and help in the fight against the virus.