Sh7b water project stalls as land owners await pay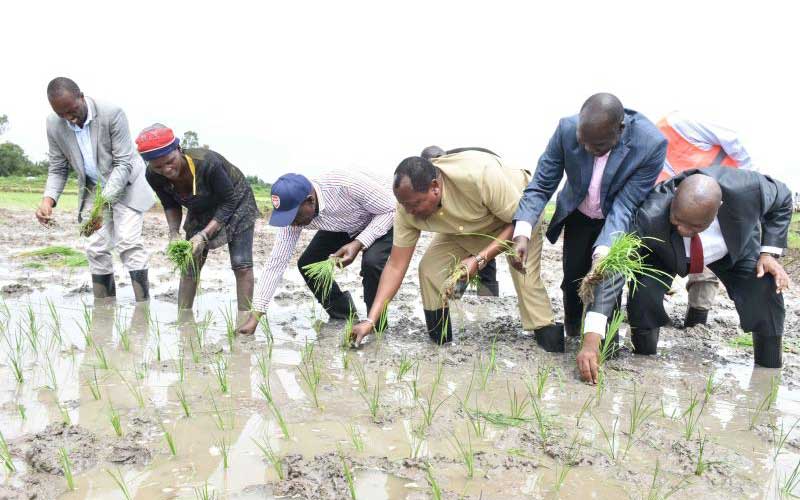 Delayed payments to land owners in Budalang'i and Siaya has halted the implementation of a Sh7 billion irrigation project.
Speaking during a tour of the project last week, the head of the Lower Nzoia Irrigation Development Project Edwin Manyonge said the National Land Commission (NLC) was yet to compensate local land owners.
The project is aimed at boosting irrigation and curbing perennial floods in Budalang'i.
Mr Manyonge urged NLC to compensate the land owners quickly to help achieve implementation targets.
"We should have been at 40 per cent completion by now. Presently we are stuck at 15 per cent. In terms of time, we are behind by nine months," he said, adding: "The commission needs to engage land owners so that at least Phase 1 of the project is completed on time."
Manyonge averred that some locals were ready to surrender their land before full payments are made, and NLC only needed to reach out to them.
Busia county Chief Officer for Water and Irrigation Moses Weunda said completion of the project would depend on how quickly NLC compensates the land owners.
Effect payments
"It is not encouraging at all when we witness such as standoff. We appeal to the commission to effect the payments," said Mr Weunda.
The irrigation project was launched in June last year by Deputy President William Ruto.
Water Cabinet Secretary Simon Chelugui was also present during the launch.
At the time, Mr Chelugui said the ministry had deposited Sh450 million with NLC to be used to compensate land owners.
"The government will not take anyone's land without paying for it," said Chelugui.
His sentiments were echoed by National Irrigation Board (NIB) official Dan Adino, who deals with compensation matters at the board.
"We shall compensate everyone whose land is going to be used," Mr Adino said then.
During the launch, Dr Ruto said the government intended to increase the acreage under the project from 2,000 acres to 10,000 acres.
Build dykes
This was in line with plans to produce enough food to serve the entire region.
At least 34km of dykes will be constructed along the banks of River Nzoia, the deputy president said, to prevent it from bursting and discharging water that could wreak havoc on farms and at homes.
Ruto urged locals to embrace the project, which has the ability to benefit at least 60,000 homes from Busia and Siaya counties.
"Our main objective is to create a source of income for our people and address the perennial floods in Budalang'i," he said.