Calm returns to killing fields of Matungu, but fear remains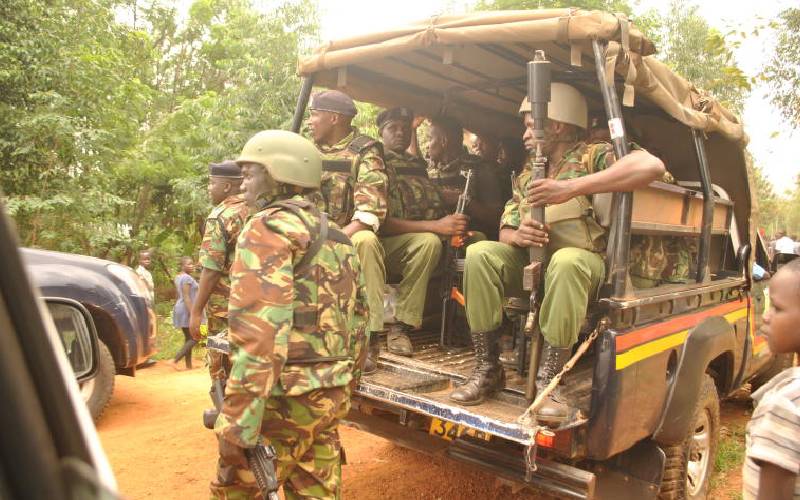 An uneasy calm is slowly returning to crime-prone Matungu following a series of gang attacks that left at least 27 people dead.
Residents are now struggling to pick up the pieces after the bizarre killings that they say targeted innocent people.
A spot check by the Sunday Standard established that even as normalcy seems to return, families are living in fear following the release of eight suspects initially linked to the bloody killings.
Nonetheless, the scars of the deadly attacks are still clear with many residents believing members of the dreaded criminal gangs could be in their midst, just waiting to strike when calm returns.
At Lung'anyiro village, Melvin Sarafina held the photograph of her brother in-law, Lynus Mungeni Otokoma, a victim of the killer gang. He was Third Former at Namberekeya Secondary School and was killed in cold blood in April, then his body dumped in a culvert along Busia–Mumias Road.
From the outside, it may seem that the village has forgotten the death of not only Lynus, but those of the two dozen others who suffered a similar fate.
Boda bodas zoom around ferrying customers to their destinations, but behind this facade, tears still stream down the cheeks of the affected.
Living in fear
"Do not be deceived by the activities you are seeing here, the killings have stopped but people are still living in fear, the heavy presence of security personnel has been reassuring though," said Patrick Barasa.
Barasa, a former civic leader said cases of people receiving death threats and botched attacks by suspected members of the killer gangs are common despite the presence of the General Service Unit officers.
Moreover, leaflets with threatening messages were discovered at Koyonzo Shopping Centre.
"The leaflets threatened particular individuals, warning them to prepare for visitors. We handed them to the police at Harambee," he said.
Because of this, entire villages remain alert.
"Men do not go to bed, they must stay awake to deal with any eventuality; they will come out in big numbers whenever an alarm is raised because the police conduct their patrols along the road and hardly access homes," said Barasa.
Celestine Ywaya, a former police officer and area resident accused local administrators of sleeping on the job.