Residents on delicate balance of crossing flooded rivers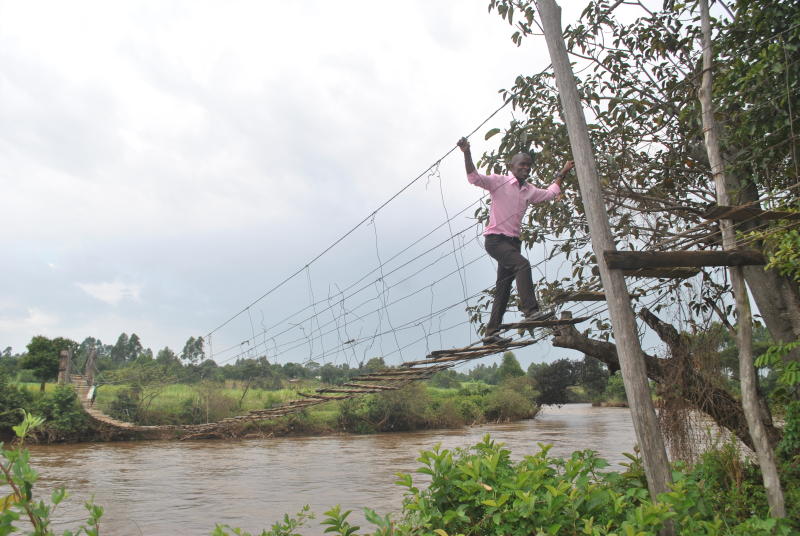 Rainy seasons always came with tragedy in Bungoma, the worst being at River Nzoia, where many locals were eaten by crocodiles while trying to swim across.
In the 1990s elders sought a permanent solution to the death trap in River Nzoia. The elders invented a suspended footbridges.
There are many footbridges across River Nzoia, but today, Kumufunje stands out because it is a private one, constructed by the family of one Mary Mucharia and Joseph Juma, and one has to pay to use it.
Sh10 charge
Every morning Mrs Mugaria, 45, stands guard at the bridge to charge anyone crossing the river Sh10. The alternative to using the footbridge remains swimming across the crocodile-infested river.
Kumufunje was erected in 1990. Up to 300 people use the bridge daily. That means Mary can make Sh3,000 a day.
But this is not your ordinary bridge. For starters, it straddles the second biggest river in Kenya after the Tana. Then, it has culture and superstition around it.
Before its construction, several people had lost their lives trying to swim across the Nzoia. "So when the bridge was erected, a sheep was slaughtered to cleanse it so that in case it is washed away by floods or breaks down, no one dies," said Ms Mugaria.
The sheep's blood was sprinkled across it in the middle of the night to "appease the gods of the river".
Since then, according to Joseph Juma, 60, the bridge has only given way once, during the 1997 El-Nino rains.
But it is not easy to cross the footbridge. Many have started to cross and stopped midway, too terrified to continue. Others just broke down and wailed, and got fined for it.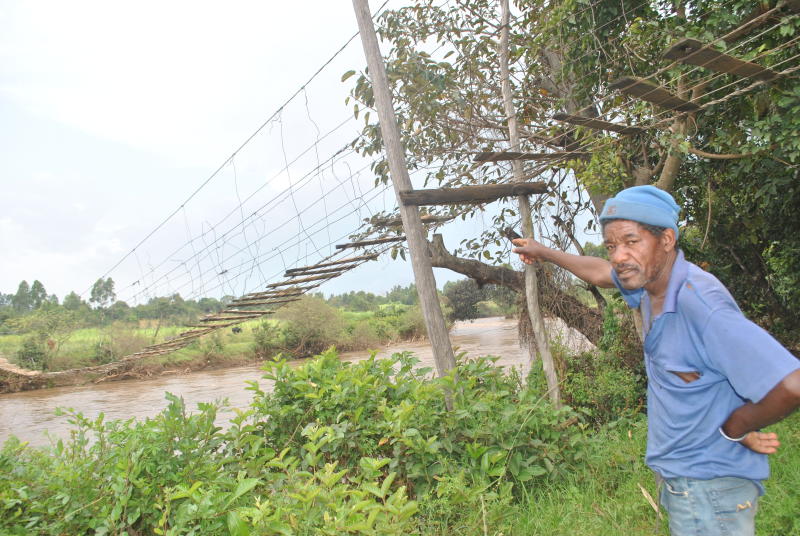 "If you cry, you get fined a sheep and a cock, because that is bad omen. The Kumufunje footbridge is not for the faint-hearted," said Mr Juma, a local.
Ironically, the bridge that was put up to save lives has claimed a couple of its own. Three years ago, a man and a woman attempted to cross the bridge but failed. "When she reached the middle of the bridge, she stumbled and fell into the water and was swept away," said Juma.
Before you cross this bridge, you are better off doing an alcohol-blow test. "Six months ago, my uncle tried crossing the bridge while drunk and fell into the river," Juma adds.
Cleansing bridge
Many have died in the same manner, locals say, and whenever that happens villagers slaughter a bull and a sheep to cleanse the bridge.
The deaths have, however, not stopped dare-devils from traveling miles to try the bridge, which can only take one person at a time.
According to Victor Ngecho, a local, people travel from as far as Nairobi to try the bridge. For the villagers, however, this is not a tourist attraction but a death trap; one that they want done away with.
They want the Government to put up a new bridge. "We need a better bridge to ease movement of people and agricultural products to the market," saidi Mr Ngecho.
Cotu boss roots for 2022 fund
Cotu Secretary General Francis Atwoli has asked political leaders from western Kenya to pool funds for 2022 presidential campaigns.