Chaos in assembly as MCAs fight over Sh14.5b budget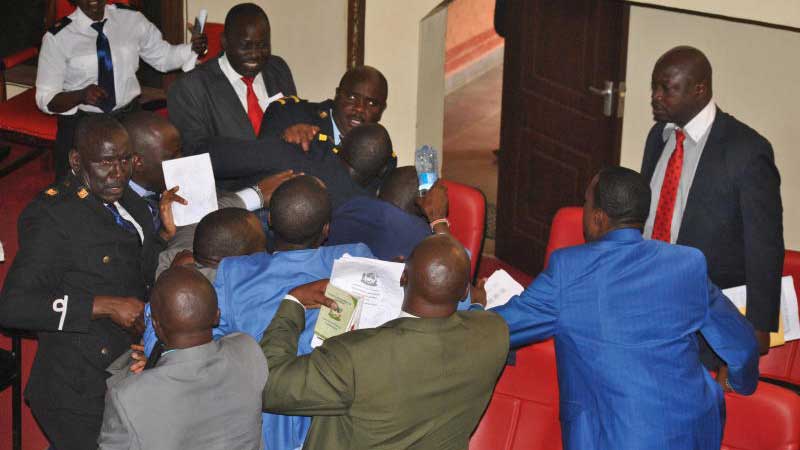 MCAs engaged in a fist fight after disagreeing over the 2018-2019 budget.
Trouble started soon after Budget and Appropriations Committee chairman Willis Opuka (Marama South MCA) tabled the budget report in the county assembly on Wednesday.
Some of the MCAs wanted sections of the Sh14.5 billion budget they were uncomfortable be amended.
However, Speaker Morris Buluma thwarted their efforts by ordering them to sit down. Buluma accused some MCAs of supporting their positions using unverified information.
Because of the standoff, a session that should have lasted two hours stretched to nine hours as MCAs engaged in a shouting match before fighting broke out.
Ward representatives
The budget was later passed after ODM ward representatives voted in favour of the report by 57 votes against 21.
Jubilee, Amani National Congress and Ford Kenya MCAs opposed the budget as ODM ward reps, who support Governor Wycliffe Oparanya, passed it.
The bone of contention was allocation of Sh50 million for construction of Oparanya's residences in Lugari and Lurambi.
"The governor's residence has been allocated Sh50 million every financial year since 2014 which brings the amount to Sh200 million. Yet, we don't know where the money has been going," said Kevin Maelo (Butali/Chegulo MCA).
Maelo, a Jubilee MCA, wondered why the county wants to construct another residence for the governor in Lurambi when another one is already under construction in Lugari.
He demanded an audit to show how the previous allocation was spent.
Maelo also questioned why only Sh1 million had been set aside per ward for bursaries while other counties had allocated over Sh4 million per ward.
But Buluma ordered him to sit down saying the MCA had presented unverified information to the floor of the house.
Five MCAs friendly to Oparanya, including Butsotso Central's Lyston Ambundo, supported the budget.
Standing on point of order, Shieywe MCA Joab Mwamuto accused the speaker of being biased. He said Buluma should have given those opposed to the budget a chance to make changes.
"The speaker is biased and is giving more time to ODM MCAs who are being used to rubber stamp the budget without changes," said Mwamuto.
Isukha South MCA Farouk Machanja said: "Any Speaker who takes sides when the house is discussing matters of public interest has no business holding his position and should be impeached."
Machanja wondered why money meant for construction of roads in wards had been reduced by half from the Sh10 million allocated the previous years.
Nominated MCA Dorice Matele was concerned that the committee had used part of the money meant to facilitate public participation to buy Ipads for MCAs.
"It's the duty of a member to catch the Speaker's eye. If you don't want to catch my eye you will not be given a chance to talk. I am not biased but the business of the day must continue," Buluma said as the standoff worsened.
Minority Leader David Ndakwa of ANC said the budget estimates were unrealistic.
However, Majority Leader Joel Ongoro dismissed him saying the budget was a reflection of President Uhuru Kenyatta's Big Four agenda.
At least 48 per cent of the Sh14.5 billion will go to development while the rest to recurrent expenditure.
Also worth noting, the county has adhered to section 107(2) (a) of the Public Finance Management Act 2012 which requires that at least 30 per cent of the total budget be allocated to development.
The county has only exceeded the 35 per cent ceiling of what should be spent on salaries by two per cent.
Recurrent expenditures of all departments was slashed by 25 per cent and allocated to development.
In the 2017/18 fiscal year, development expenditure took 38 per cent of the budget.
County treasury
Oparanya's office will get Sh391.03 million, the department of Public Service and Administration Sh1.31 billion and county treasury Sh751.2 million.
Environment will get Sh451.86 million and Social Services Sh600.1 million.
Others are Trade (Sh427.5 million), Education (Sh1.29 billion), ICT (Sh225.2 million) and County Public Service Board (Sh72.8 million) while the county assembly will get Sh1.05 billion.