Mt Elgon insecurity: families recount nights of horror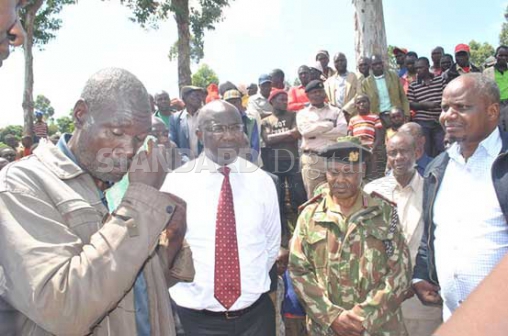 Criminal gangs roaming villages in Mt Elgon have killed and maimed dozens of people since August, but most of the attacks have gone unreported.
It was only last week when eight people were killed that local leaders, led by Bungoma Governor Wycliffe Wangamati, raised the alarm and visited the area.
The return of the senseless killings remind Kenyans of the terror caused by the Sabaot Land Defence Force (SLDF) between 2005 and 2008, when hundreds of people were killed and scores of women had their ears chopped off.
The gang, led by their leader Wycliffe Matakwei who was killed in an operation mounted by the Kenya Defence Forces, also killed family members of then area MP John Serut.
Two months ago, the gang members left pain and devastation in Kongit village of Kaptama Division when they raided the home of Education Officer Patrick Kosum and killed two of his sons and seriously injured another.
"They are now behaving like stray dogs abandoned by the owners because they used to be paid by politicians who have now abandoned them," says Kosum.
It has emerged that they are led by well-trained men who have recruited members in every ward across Mt Elgon.
The leaders crisscross into eastern Uganda after committing crimes while others are said to have hideouts in places like Chwele town in neighbouring Sirisia Constituency and Malaba in Teso North.
"They take two to three months in those places before returning to commit more killings and looting when they get information from their appointees in the wards," says a local elder.
But the rookie criminals in the wards have on several occasions been lynched by the public every time killings are carried out.
"A few have been identified. Four were rounded up and lynched when they attacked my home and another group was killed last week when they attacked Masaek in Chebyuk," says Kosum.
Although many people spoken to were skeptical about the ability of the police to deal with the menace, it has emerged that security enforcement teams are dealing with double faced agents.
The agents claim to be giving police information on where the criminals are and their identity but only end up sending them in the wrong directions as they inform the criminals to run away.
Elders have called for a stern action to be taken but they fear nothing will happen unless intelligence officers and police use credible and reliable people to root out the criminals.
Although area MP Fred Kapondi denies that SLDF militants have regrouped, arguing that it is normal robbery, in the past one month alone 10 people have been killed by people armed with guns and machetes.
Gunshots
During the election period, hardly a night passed without hearing gunshots in villages across the hills and valleys of Kapsokwony, Kaptama, Kopsiro and Cheptais divisions.
"We have lived in fear because you do not know when the bandits will attack. Residents here hold their breath at night fall not knowing if they will live to see another day," says a shopkeeper at Kongit trading centre.
Last month, the gang armed with AK47 rifles mowed down the family of Kosum, a staffing officer working with the Ministry of Education in Kisumu.
The family is still mourning their two sons aged 32 and 34 and a relative they were living with, while another son now walks with a bullet scar on his buttocks.
Mary, Kosum's wife, recalled that fateful night with a lot of pain, explaining how she was targeted but escaped death narrowly. "It was about 10pm when people banged my door several times demanding that I open for them. I saw one of them through the window and locked the door with a padlock, prompting them to shoot at my house," said Mrs Kosum.
She survived by telling them to be patient as she tried to locate the keys but picked her child and fled to another room as the thugs moved from window to window, shooting. She says she hid in the bathroom where she managed to calm the crying baby.
"They were following the screams of my child and I was moving from room to room as they were shooting but I managed to calm the baby before they left," she said.
As Mrs Kosum was still praying for her life, her son Yonah Kosum knocked on the door.
"Yonah informed me he had been attacked, shot and injured and that his friend Isaac Tutei had been shot dead," she recalls.
Just about that time, she heard screams and was informed that her eldest son Kibet Muyei had also been killed.