Bungoma County Assembly in Sh37 million insurance 'fraud'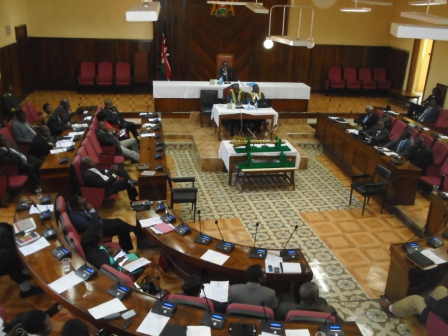 Bungoma County Assembly Board has been caught up in a controversial Sh37 million health insurance deal.
At the centre of the storm are five members of the County Assembly's Service Board and an insurance agent said to have signed a deal on behalf of Jubilee Insurance Company (JIC) and received millions.
According to documents obtained by The Standard on Saturday, JIC won the tender to provide medical insurance for members of the County Assembly and its staff, but terminated the contract after the board reportedly demanded Sh21 million kickback.
A source at the Assembly said after the insurance firm pulled out, five members of the Assembly's service board are said to have roped in a new broker said to be linked to an MCA. The broker signed the Sh37m contract on behalf of the insurance company on August 3, 2016. The agent went ahead and outsourced the scheme for a few staff and MCAs at the Bungoma West Hospital through a travel agent in the county.
Given its limited capacity, the agent is said to have also produced what the source claims were fake medical smart cards that were rejected by several hospitals.
The situation prompted an outcry from staff members and MCAs, which compelled the broker firm to enter into a fresh contract with the insurer. But the agreement was, again, suspended on January 13 this year. This is after the insurance company indicated that it had only been paid Sh8m instead of the required Sh16m. On January 31 the County Assembly Service Board under the chairmanship of Speaker John Makali held a crisis meeting and resolved to pay JIC the alleged balance of Sh7,779,750.30.
And the following day, the Assembly paid JIC Sh3.5 million through a bank funds transfer and promised to settle the balance of Sh4,279,750.30 by February 28 this year.
John Mosongo, the County Assembly clerk, then wrote a letter to JIC begging it to resume offering medical cover: "We humbly request that you resume services to our members without any further encumbrances as we prepare to honour our honest obligation herein... Kindly let us get confirmation if this arrangement is acceptable. Treat it as urgent since our members are in distress."
He added: "We had a few hitches at the initial stage but the matter has been resolved and process is now working seamlessly. The insurance company made the first move by introducing their agent to the Assembly. We realised that the reason for the interrupted cover was because the agent had not paid the underwriter despite us having fully paid the broker."
Meanwhile, the insurer launched investigations into the matter two weeks ago. "We will avail full information to you once we come to a definite conclusion," said Ms Victoria Miguda-Bonyo, head of corporate communications in an email.