Cherotich returns to win at Kapseret cross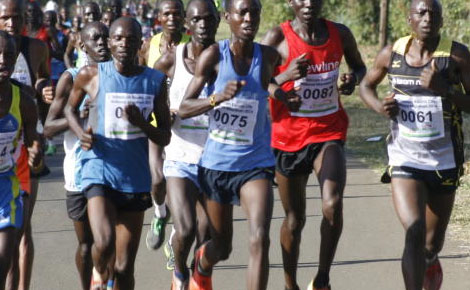 Male Athletes Compete Durinmg the Safaricom Kisumu International Safaricom Marathon. PHOTO/ PHILLIP ORWA
Nairobi, Kenya: Former world junior champion in 3,000m Summary Cherotich returned from maternity leave to win the 8km race during Kapseret Sub-County cross country championships.
Cherotich, who remained in the leading pack from the start to the end of the race at Eldoret Polytechnic ground, clocked 27:30:02 as little known Spencer Maiyo won in 12km senior men's race yesterday.
With her renewed energy to face a stellar line-up in the next week's county championships at the same venue, Cherotich said she is looking forward to repeating the feat during the county, regional and at the national trials in her quest to book a ticket for the March 28 World Cross country Championships in Guiyang, China.
Behind Cherotich were Eunice Jepkorir (28:14:92), Brenda Kibea (29:30:07) Naomi Chepkoech (30:09:22) and Jane Jesang (31:05:6) in that order.
In the senior men's 12km race, Maiyo who cut the tape at 34:35:78, led a competitive team to beat Wilson Kiprotich (35:37:11), Vincent Kipchumba (35:44:8), Moses Kimaiyo (35:54:56), Edwin Kosgei (35:58:9) and Elphas Kiprotich (36:25:4) who finished in that order.
Debora Jepkemboi competed on her own in 6km junior women after turning up alone in the race, and clocked 22:26:25. Fredrick Kipkosgey won the men's junior race after stopping the clock at 22:48:65. He was followed by Wesley Ng'eno (22:59:65), Daniel Kipchumba (23:27:80), Wilson Bett (23:54:07), Abraham Ng'etich (24:04:00) and Gerald Vincent (24:18:1) in that order.
In Turbo Sub-county, little known Nelly Koech won the senior women's race at Maili Tisa grounds. She stopped the timer in 28:43. She was closely followed by Pamela Tallam who timed 28:55. Purity Serem finished third after clocking 30:54.
Nairobi Governor Kidero should end the suffering of Nairobians
In her enduring writings that shaped the world's understanding of grief, Elisabeth Kubler-Ross, a Swiss-American psychiatrist opined that "The most beautiful people we have known are those who have known defeat, known struggle, known loss and have found out their way out of those depths."