Commonwealth Games: Eunice Jepkoech Sum wins gold in women's 800M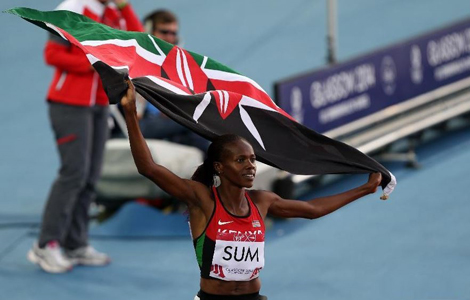 Eunice Jepkoech Sum of Kenya celebrates with the national flag after the women's 800M final of Athletics at the 2014 Glasgow Commonwealth Games in Hampden Park in Glasgow, Scotland on Aug. 1, 2014. Eunice Jepkoech Sum won the gold medal with a time of 2 minutes and 0.31 seconds. (Xinhua/Han Yan)
The Commonwealth Games women's 800m final produced an exciting mix of tales for Kenya at Hampden Park Stadium on Friday night.
It rolled into motion the anticipated generational change in the two lap race and set the unofficial stage for 2006 Commonwealth Games 800m champion Janeth Jepkosgei to hand over the two-lap race to world 800m champion Eunice Sum and the new crop of athletes.
Sum, who was introduced into athletics by Jepkosgei, shook off challenge from homegirl Sharp Lynsey and Uganda's Winnie Nyandondo. She raced to gold medal in 2:00.31, three seconds shy of the games record of 1:57.35 set by Maria Mutola of Mozambique in 2002. Sharp (2:01.34) and Nanyondo (2:01.38) settled for silver and bronze respectively.
The runner from Kesses near Moi University's main campus has had a sterling season, basking in a 1:57.38 best mark she posted while winning the world championships in Moscow and a 1:57.92 season best set in Monaco two weeks ago.
And that proved cast iron guarantee that Sum would close in on the exploits of her mentor Janet Jepkosgei, who won Commonwealth Games in 2006 and 2007 IAAF World Championships 800m gold medals. Former Olympic 1,500m champion Nancy Jebet Lagat won the title in New Delhi in 2010.
"This is my third medal. When Janet lost in the semi-final she led me in a cool down session and encouraged me to soldier on. I am now almost at equal footing with her, who is my athletics mother. I entered the competition with all the confidence, since I had raced against most of them in the Diamond League series," said Sum.
Sum, who is a cousin of 2007 world 800m champion Alfred Yego Kirwa, said they bank on Jepkosgei's vast experience when competing in big races.
"I will now set my focus on the Africa Championships to see if I can improve on the silver medal I won in Benin. I thank Jepkosgei for the far she has guided me," said Sum.
Jepkosgei, who pulled out of the Moscow Worlds over injury, said she was delighted with Sum's win. "I feel it's my victory. I like Eunice. She listens and takes training seriously," said Jepkosgei.
The athlete, who is an alumnus of Sing'ore Girls High School in Keiyo North, said: "Eunice (Sum) and Agatha are my athletics daughters and I am happy to represent Kenya with them in my last competition. It will be good if we appear in the podium. This is my last Commonwealth Games."
Jepkosgei, who won silver (2009) and bronze (2011) at the World Championships, has been in the 800m for the last decade and feels great challenge from upcoming athletes.