By IAAF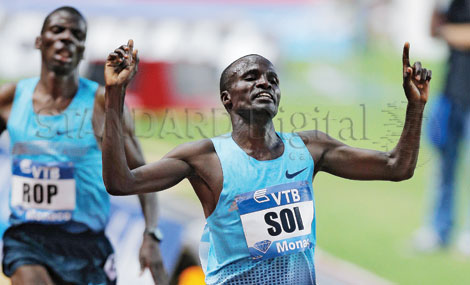 World Indoor 3,000m bronze medallist Edwin Soi during a past race. He will run in Karlsruhe. [PHOTO: FILE/STANDARD]
Three reigning 3,000m world indoor medallists will clash over the same distance on February 1 at the Indoor Meeting Karlsruhe in southwest Germany, the first leg of the 2014 IAAF Indoor Permit series.
Bernard Lagat, the World Indoor champion, will take on the Kenyan pair of Augustine Choge and Edwin Soi, who won the silver and bronze medallists respectively at the 2012 IAAF World Indoor Championships in Istanbul, Turkey.
Lagat, now 39, also defeated Choge in Karlsruhe last year, clocking 7:34.71, his fastest indoor 3,000m time since 2008.
But Choge is no stranger to winning in the German city. Two years ago in a memorable race against Soi, the pair crossed the line neck-and-neck, stopping the clock on 7:29.94, with Choge being awarded the victory.
Read More
It was still a few seconds shy of the meeting record, though. That belongs to Haile Gebrselassie, whose mark of 7:26.15 was a World Indoor record when he set it in 1998. It lasted less than two weeks as Daniel Komen bettered it with 7:24.90, which remains the existing record.
Also in the race is European Indoor champion Hayle Ibrahimov of Azerbaijan and European silver medallist Arne Gabius of Germany.
Gabius will be aiming to break the German Indoor record of 7:37.51, set 19 years ago in Karlsruhe by Dieter Baumann. The 32-year-old Gabius came within one second of the mark in Karlsruhe two years ago, clocking a time of 7:38.13.
The 3,000m quintet are the latest athletes to be revealed for Karlsruhe.
Among those previously announced for the meeting are two-time world champion David Storl and two-time Olympic champion Tomasz Majewski in the shotput, and world champion Raphael Holzdeppe and Olympic silver medallist Bjorn Otto in the pole vault.
After Karlsruhe, the next race will be in Moscow on February 20.