Weekly Note: Is the grass really green at the Gulf
Hey!
Welcome to the maiden issue of the Weekly Note, a Standard newsletter that will summarise the big stories of the week you may have missed.
Before I get into the juicy stories, this is what is new on our end. It has been a month since we upgraded the design of the Standard website and newspaper. Thank you for all the feedback you have sent us about the new design of the paper and user experience on the web. Just in case you have not shared your feedback or still have something more to tell us, you or your friends can submit feedback HERE.
This past week, we had several big stories. On May 1, Labour Day, President Uhuru Kenyatta revised curfew hours and also lifted travel restrictions in and out of the five diseased counties. He also directed sporting activities to resume after the ministries of Health and Sports issue safety guidelines. This announcement comes as schools prepare to open from Monday, May 10.
Is the grass greener in the Gulf?
As part of our Labour Day reportage, we ran a Special Report about Kenyans working in the Gulf. Our investigations revealed that the grass is not really green on the other side. In case you missed the stories on TV or web, below are links…
This week, Kenya hosted Tanzania's President Samia Suluhu Hassan. Her two-day State visit was marked with pomp and colour that included a state luncheon and banquet. She also addressed a joint sitting of Kenya's Senate and National Assembly. Suluhu's visit is expected to improve relations between the two countries.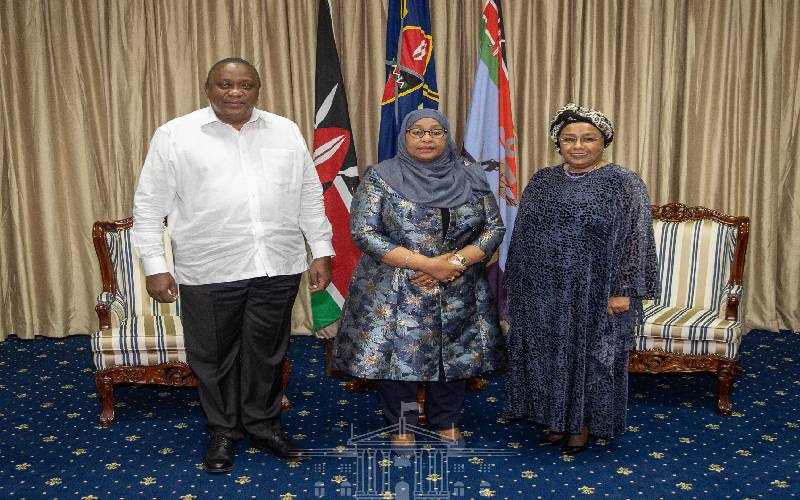 Following Suluhu's visit, the two countries have agreed on joint infrastructure projects among them the construction of a 450-kilometre highway from Lamu to Dar es Salaam through Mombasa, Tanga and Baga Moyo. You can read more about the key take-outs from Suluhu's visit HERE.
Indian Covid-19 variant now in Kenya
As the Covid-19 positivity rate falls to 6.3 per cent as of Friday, May 7, the Ministry of Health has confirmed cases of the Indian variant in Kenya. The ministry officials confirmed eight cases of Covid-19 of Indian variant from samples collected at Kibos Sugar Factory. The gene sequencing done a week ago at Kenya Medical Research Institute (KEMRI) detected the B.1.617 variant dubbed a 'double mutant', a dominant strain that is spreading quickly in India.
We are now the second country in East Africa after Uganda to confirm the deadly Indian Covid-19 variant responsible for a spike in infections and fatalities in India.
Experts say virus variants occur due to the changing nature of viruses, with a new variant having one or two mutations that are differentiated from the predominant variant already circulating. Read here to know why the Covid-19 virus mutates.
That is all for this week, if you have some feedback for me, you can submit it HERE.
Regards,
Carole Kimutai,
Digital Editor, The Standard Group