I've been in pain since I was 13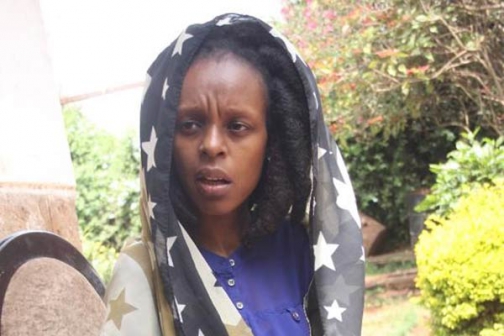 Njambi ushers us into the black gate that leads to the home that she shares with her mother and ailing grandmother. In recent months her family has gone through some tough times, she and her grandmother have been diagnosed with Endometriosis and Stage 4 Pancreatic cancer around respectively. At the foyer of the house, she has placed seats ready for our interview.
The cool, breeze of this side of Nairobi sway the leaves of the banana trees that surround the home, her huge dreadlocks covered by the brown and blue colored shawl, contrast her small frame, she is a shadow of the Njambi Koikai we know from her reggae shows and "The Trend" talk show . The pain and strain of the last few months have indeed taken a toll on her body.
She coughs lightly after every few sentences, sometimes staring into space, trying to find the right words that can fully describe the physical pain she has gone through.
"It started when I was thirteen when I had my first period. I had boarded a bus and was on my way to school when the pain begun. As we as we approached the Ambassador Bus stop in town, the pain got so bad that threw up on the person sited next to where I was standing. The pain became intense to the point that I could not make it to school that day".
"My mother told me that she and my grandmother had similar pains during their periods and as such it meant that I had to work my way around the pain. I tried every painkiller I could find but they did not work. A childhood friend of mine who studied in Australia would bring me narprogesics ,a non steroidal anti-inflammatory drug which is specially designed to treat the cause of period pain, by inhibiting the production of prostaglandin that causes inflammation. But even that worked for only a short while, my sister who was out of the country during that time also brought me Mefanamic Acid but that too worked for a short time. In fact, got immune to each drug I used after a short while".
"When I could not handle it anymore i sought professional help from a Gynaecologist. I was put on contraceptives to help balance my hormones. Instead of getting better, my situation became worse. I would have a really good month and then the unbearable agony would ruin everything. Some days at work, the pain would begin almost suddenly and that was it, I could not move or work anymore".
"It was not until my late twenties that it progressed to other parts of my body. I would to have pain in my ribs and shoulder area during my periods, then when I was 29, during one of those dreadful periods, my lungs collapsed, not once but three times within a span of few months. The third collapse was exactly five days after I had a second surgery. The doctor said we had to go back into the operation room but I refused. The second surgery had taken a toll on my body, I had lost 13 kilograms, my appetite was very law and I could not sleep."
"Catering for my surgeries and cancer treatment for my ailing grandmother had really dug into our finances. So I begun to raise money and share my story online and that is how I met Cindy a lady who had a similar condition as mine. She referred me to a gynaecologist at Aga Khan Hospital, who diagnosed me as having a Catamenial Pneumothorax. A rare condition in which air or gas is trapped in the space surrounding the lungs causing the lungs to collapse within 72 hours before or after the start of menstruation. In my case it was caused by the abnormal migration of endometrial tissue from the lining of the uterus to the diaphragm, the space in between the membranes lining the chest cavity wall and the lungs."
"In one sitting I was told I had endometriosis, a major gynaecological disease which that was causing me to have a life threatening condition. I very sad f, that the treatment I had been undergoing was a symptom of something much bigger that could have been avoided if only the doctors who I consulted much earlier in my life had correctly diagnosed it."
"My focus now is on healing and managing the endometriosis and its effects on my body. I want to raise awareness regarding this disease. To let people know that endometriosis is real, it's not just another stomach cramp that ladies need to get over."
Njambi has since had another Lung collapse and is seeking funds to enable her undergo another surgery to repair her lungs , so that she is well enough to begin treatment for the Endometriosis.
Trump, Clinton win big in Arizona, but Cruz, Sanders show fight
U.S. Republican front-runner Donald Trump swept to victory in Arizona on Tuesday but rival Ted Cruz showed some fight with a win in Utah that gave hope to establishment Republicans who fear Trump would lead the party to ruin in the presidential election.