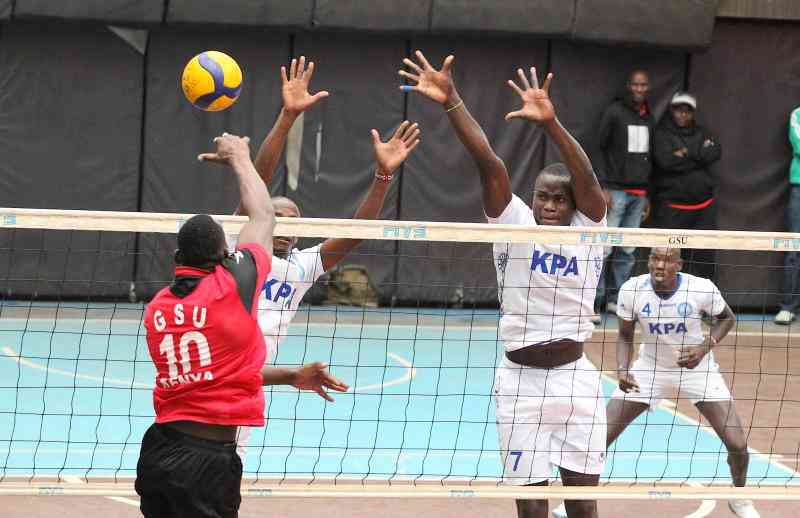 Trailblazers increased their chances of making it to the men's national volleyball playoffs after they won two crucial matches as the sixth leg of the league continued yesterday at Nyayo stadium.
The two victories took Blazers to the fourth slot with 30 points with two matches to play today against Nairobi Prisons and tomorrow's final match against Rift Valley Prisons.
In a nail biting match played yesterday, Blazers overcame strong opposition to beat Kenya Forestry Services (KFS) to dislodge them from the fourth position.
KFS lie seventh with 27 points with two matches to play against GSU and Mombasa Prisons respectively.
In the match against KFS , Blazers went onto offensive with excellent blocks to WIN 3-1 (25-18, 25-22, 20-25, 25-19) to inch closer to the last four.
In the previous match, Blazers easily defeated Western Prisons 3-0 (25-20, 25-21, 25-21) for the three crucial points.
In another match that lasted for one hour three minutes, Equity Bank beat Administration Police Kenya 3-1 (25-17, 25-17, 22-25, 25-21) while Nairobi Prisons hit Vihiga County 3-1 (25-18, 25-19, 20-25, 25-22).
League leaders Kenya Ports Authority (KPA) have a high of qualifying for the playoffs should they beat AP Kenya today.
KPA have 34 points and a win will take them to 37 points which automatically lands them in the last four.
The dockers have lost once this season to Prisons Kenya and finished fifth in the 2022 African men's volleyball club championships in Tunisia.
The playoffs are expected to be played mid this month at a venue yet to be announced.
Meanwhile, the national women beach volleyball team is back in Mombasa to continue with their training.