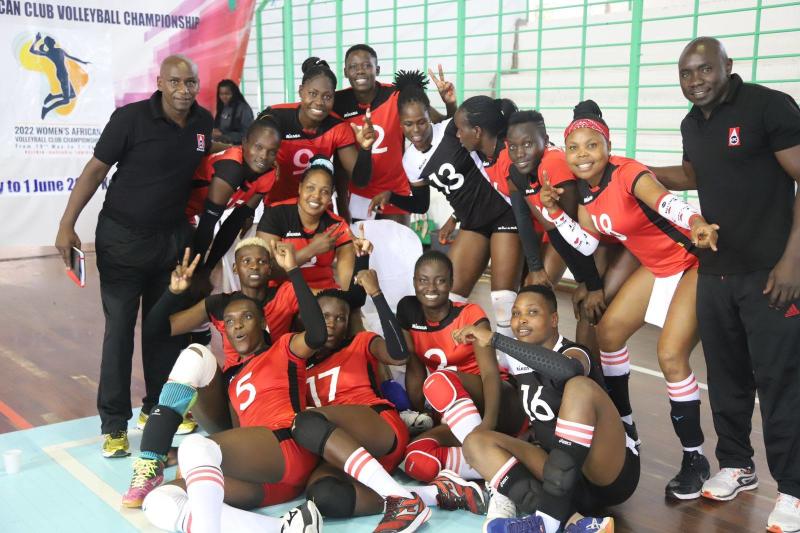 Five-time champions Prisons Kenya will renew their rivalry with KCB Bank when they clash in the quarterfinals of the 2022 Africa Women's Club Championships in Kelibia, Tunisia tomorrow.
This after the both teams beat their respective opponents in the pre quarterfinal matches yesterday.
Under the tutelage of Josp Barasa, Prisons edged out VC la Loi from Ivory Coast 3-0 (25-15, 25-18, 25-18) to cruise to the last eight while Japheth Munala's KCB also trounced Customs of Nigeria 3-0 (25-18, 25-16, 25-14).
It will be interesting to see who will carry the day between the star-studded bankers and the domestic league champions.
But the most encouraging thing is that at least there will be a Kenyan team in the semis as they aim to reclaim the continental title Prisons last won in 2013. The semis are slated for May 30 with the final on May 31.
Kenya Pipeline equally stormed into the quarters with straight sets victory over Uganda's Ndejje University (25-20, 25-12 25-13).
The six-time champions, who lost to Al Ahly in their final group match on Tuesday, will face FAP of Cameroon in the quarterfinal. The Cameroonian side floored Ethiopia's National Alcohol 3-0 (25-16, 25-15, 25-13) in a pre quarterfinal match yesterday.
Prior to their defeat to Al Ahly, Pipeline coach Paul Gitau said: "We are still focused and ready to make our country proud. I'm pleased with our good start to the tournament. I have not yet watched all the teams play, but I believe our game against Al Ahly will determine our destiny in the tournament."
While Prisons remain one of the teams still unscathed in the tournament with an unbeaten run, the bankers only lost once, 3-1 to their Group B rivals and defending champions Carthage of Tunisia.
Munala boasts of almost five key players who are in the national team while Barasa has blended his team with experience and young talent among them Kwanthanze Secondary School duo of Delphine Misiko and Sheila Khasandi (15 years old).
Middleblocker Edith Wisa (captain) and her Malkia Strikers captain Mercy Moim, high flying Sharon Chepchumba are some of the players Munala will heavily bank on for victory.
On the other hand, Barasa has 14 girls to pick his charges from but experienced captain Brackcides Agala, Emmaculate Chemtai, Meldine Sande and Anne Lowem are expected to spearhead the wardresses to semis.
Agala believes they are having a good run in the competition, which should not be stopped by KCB.
However, Wisa on the other hand is optimistic about victory and revenge on last year's defeat by Prisons in the deciding match of the Kenya Volleyball League playoffs match at Makande Gymnasium, Mombasa.
The bankers are currently leading in the domestic league and they would want to transform their good run into victory tomorrow.