Step up! Girls advised
EASTERN
The girls were discouraged from embracing a timid-approach to leadership in school and in their studies.
By Victor Nzuma | 1 year ago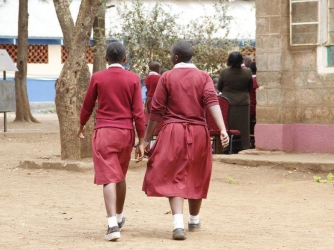 Girls in public schools to get free sanitary towels
The Government will now be required to provide every girl enrolled in a public school and has reached puberty with sanitary towels.
Standard Reporter | 4 years ago
Girls benefit from reusable pads in Kisumu County
Kisumu Medical and Education Trust (KMET) in partnership with Stanbic Bank on Friday afternoon, commemorated Menstrual Hygiene Management day by distributed reusable sanitary pads to 250 girls both from Magadi primary and Magadi Mixed Secondary schools in Manyatta slum, Kisumu County
Otieno Arnold | 4 years ago
Shun backward cultural practices and educate the Somali girl child
Northern Kenya which in largely inhabited by people of Somali origin, educating a girl is like touching a live electric wire, there is a Somali saying which goes by '' Gabar ama Gunti rageed ama God hakajirto" literally meaning a girl should either be married or in the grave. It's this saying I think that encouraged most Somali parent not to educate girl child unlike boys.
Muhammad Ali | 5 years ago