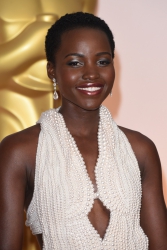 By Mirror | 6 years ago
Lupita fits into white America's stereotype of black actresses
I was joyously delirious when Mexican-Kenyan actress Lupita Nyong'o, the daughter of Senator Peter Anyang' Nyong'o and business executive Dorothy Nyong'o, scooped the Oscar for Best Supporting Actress for the gripping historical drama 12 Years a Slave.
Makau Mutua | 6 years ago
Lupita 'never dreamed' she would be praised for her looks
Although the Mexican-born actress who grew up in Kenya first equated beauty with television images of light skin and long straight hair, Lupita Nyong'o, named 'World's Most Beautiful' by People magazine, said her mother always told her she was beautiful.
Reuters | 7 years ago
Everything Oscar is not always gold
I have a problem with 12 Years a Slave, not just as a film, but also as the conduit for recognition of Lupita Nyong'o. It is 133 minutes of the best acting, showing people in their worst light.
Julie Masiga | 7 years ago