Kenyan tomato farmers count losses as pest ravages crop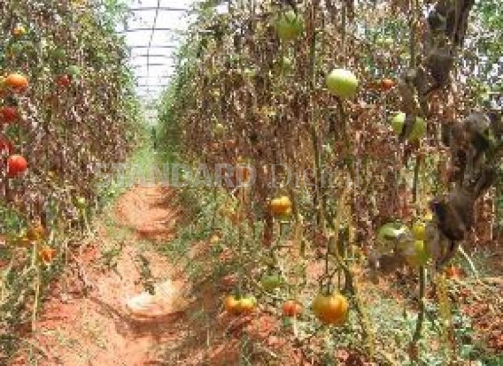 NAIROBI: Farmers are worried following an outbreak of a pest attack that is wiping away tomatoes in Rift Valley and Central.
The pest known as Tuta absoluta, a grey-brown moth that is 7mm, wipes out up to 100 per cent of the yield within days and has no known cure. The invasive pest attacks fruits both in the open farm and in the greenhouses.
'Smart Harvest' interviewed some of the affected farmers who have recorded huge losses. Julius Kibor, a farmer from Kibendo in Elgeyo Marakwet County says crops, which would have been harvested between November and January, were wiped out by the pest.
"Most of us thought it was blight. We learnt too late that it was Tuta absoluta. The pest has wiped away all our produce," says Kibor.
Tuta absoluta feeds on the leaves and the fruits of tomatoes. It lays eggs, which are 0.5 mm long and can be found on the underside of young leaves or on the stems. Young larvae are about a millimetre long, yellowish in colour but after sometime they become green and up to 7mm long. This makes it difficult for farmers to notice when it strikes especially in new zones.
Agricultural expert Joyce Njoroge, says the pest is lethal and a female pest can produce up to 260 eggs in 21 days.
Njoroge, who works with Kenya Biologics Ltd, a consortium of scientists who help farmers with information on how to improve crop production, says the pests can destroy 100 per cent of the crops in the field.
Njoroge explains: "It is not a viral disease nor is it blight. These are very dangerous pests, which can destroy a whole harvest."
The larval period, according to scientist is the worst stage where the pest grows into a caterpillar which feeds on the leaves of the tomato.
According to Dr Wilson Rono, a food crop scientist at the Food Agricultural Organisation, the moth destroys the photosynthetic activity of plant and thereby destroying the whole crop.
Rono says: "...a multi-institutional technical team comprised of Mininistry of Agriculture, Kenya Plant Health Inspectorate Service (Kephis), Kenya Agricultural Research Organisation (Karlo) and University of Nairobi, was constituted to carry out survey on the pest. The team was rallied together following reports by stakeholders indicating the presence of a new pest causing symptoms resembling the migratory tomato leaf miner."
The Government has embarked on public awareness and capacity building of the extension service providers, plant inspectors, transporters, county market personnel and the farmers on identification skills and general management of the pest.
Dr Rono says the migratory pest, is suspected to have entered Kenya through Ethiopia.
It was first reported in was Isiolo County then Kirinyaga County, before being spotted in Meru. It later spread to Oloitokitok in Kajiado, Njoro in Nakuru, Nairobi, Elgeyo Marakwet and Uasin Gishu.
The pest feeds by producing large galleries in leaves, burrowing in stalks, and consuming apical buds and green and ripe fruits. Experts are struggling to contain it using pesticide sprays due to the insect's nature of damage as well as its rapid capability of development of insecticide resistant strains.
Dr Rono advises: "It is a dangerous pest. It spreads fast and farmers should exercise hygiene in their farms to reduce its effects. They should avoid throwing tomatoes or their remains near their farms. Suspected crop should be uprooted and burnt."