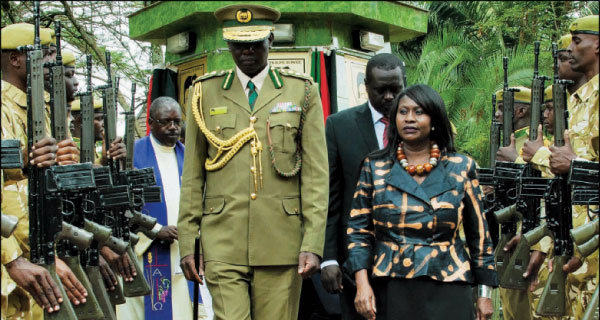 Environment Cabinet Secretary Prof Judy Wakhungu inspects a guard of honour mounted by KWS rangers during the Conservation Heroes Day at KWS headquarters. [PHOTO: STANDARD]
By ABIGAEL SUM
Environment Cabinet Secretary Judy Wakhungu has said there is need to enhance national and international inter-agency law enforcement to end security threat to wildlife.
"I am aware that poaching of key species is now largely under control comparatively to the levels witnessed last year. However, the extent of the problem requires collaboration with other law enforcement and security agencies, both locally and internationally," said Wakhungu.
Following the success of the inter-agency crack unit in controlling poaching in known hotspots, the Environment Ministry has sanctioned additional reinforcement from Administration Police and General Service Unit to fight the menace.
Prof Wakhungu reiterated that the ministry had undertaken measures to provide resources to facilitate the recruitment of additional rangers in the coming year to bolster anti-poaching efforts.
The Cabinet Secretary expects President Uhuru Kenyatta to assent to the Wildlife Bill 2013 recently passed by Parliament, noting that once it becomes law the government would inch closer to winning the fight against poaching and conserving wildlife species.
"The Bill heralds revolutionary provisions in the management of wildlife sector going forward. Notably, the Bill provides for stiffer penalties that are deterrent and provide a paradigm shift in wildlife security framework," she said.