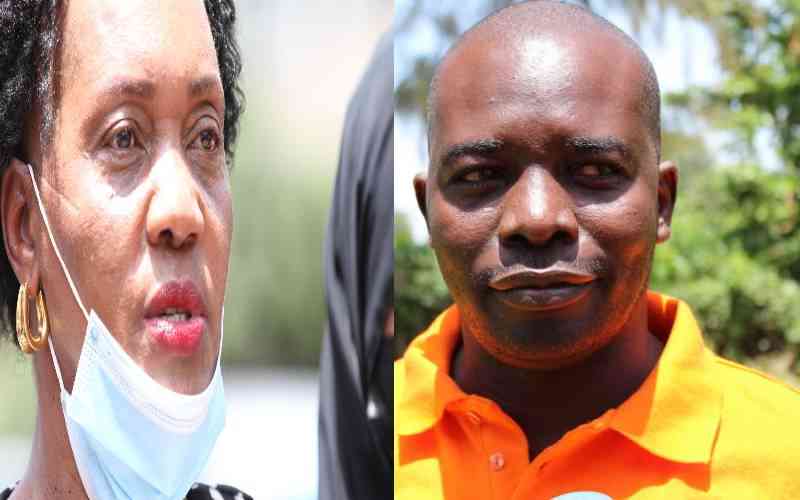 Veteran lawyer and career politician Olago Aluoch has defied all odds in a region perceived to be predominantly an ODM base to win the Kisumu West parliamentary seat for the last two terms.
Aluoch rode to victory having ticked off fringe parties in the region despite heavy political headwinds from Raila Odinga's ODM party.
In both 2013 and 2017 elections, Olago won the seat using a Ford Kenya party ticket and has fought off all attempts to lure him back to the Orange party as he continues with his quest to retain the seat.
And as the August 9 polls draw closer, political realignments in the constituency have resulted in the creation of a colourful cast of characters eyeing the seat, and have placed the seat among the crucial races in the region.
ODM party is keen to wrest the seat from Olago to help strengthen its political house and is banking its hopes of reclaiming the Woman Rep seat from Rozah Buyu, rekindling memories of the intense political competition between Buyu and Olago in the 2013 General Election.
In that race, Olago defeated Buyu with only 1,597 votes, garnering 22,946 votes against Buyu's 21,349 votes. In 2017, however, he had a smooth sail after garnering 32,703 votes against ODM's John Awiti with 21,311 votes.
In the current election season, Olago is hoping to retain his seat through Movement for Democracy and Growth (MDG) party ticket. Although considered a fringe party, Olago is optimistic that his track record will sell his bid to retain the seat.
He says the same way he was voted in 2013 and 2017 because of his track record is the same way they are going to back his re-election bid in the August polls.
The race has also attracted Kennedy Onyango and Ray Oluoch, who are all vying as independent candidates. Democratic Congress party has also fielded William Odhiambo to battle it out for the seat.
All the candidates claim they have the mettle to upset Olago and dislodge him from a seat he has held since 2007. Between 2007 and 2013, Olago held the seat on an ODM ticket before quitting the party in 2013 after controversial party primaries.
ODM party insiders told The Standard that the party settled on Buyu after intense negotiations that saw her drop her interests in defending her Woman Rep position to unseat Olago.
Observers believe the current race will be defined by track record, party strength, clannism, and the flopped zoning plans by parties that has allowed other parties affiliated to Azimio One Kenya Alliance to field candidates.
In the past, voters in the constituency have not only voted against party lines, but have also defied clannism to elect the leaders of their choice in an area that is home to many non-natives.
Olago says he is relying on his track record, and the fact that he has been very active in matters of social welfare like fundraising for college and secondary students, funerals, women groups and youth groups.
For the period he has been serving as an MP, Olago has built a vast grassroots network that has endeared him to the electorate and turned him into a local celebrity whose candidature divides opinions.
"Having been a MP in this constituency for the last three terms, I am relying on my development track record. To bring services close to the people, I embarked on constructing offices for our chiefs and their assistants and the DOs. I have done quite a lot on those lines but I am yet to complete," says Olago.
Olago says he is also relying on the good grassroots networks that he has made with his constituents.
He notes that he is looking forward to complete some projects and issues pending in his fourth term, which is also his final one.
He argues that his constituency, just like Kisumu East, has no loyalty to ODM issues and this has been proved in successive elections.
"This has never been important to my constituents. What is important to them is usually the service delivery and loyalty to the ideals of the ODM leader Raila Odinga. If you follow my kind of politics and MP Shakeel Shabir you, will realise we have no issues with ODM leadership. It is only the grassroots officials who appear to have issues with me but I have never retaliated," he says.
Buyu, however, has promised Olago a bruising contest and says she is confident of winning the seat.
She argues that in 2013 when she competed against Olago for the same seat, Olago won on sympathy wave that does not exist now. She claims Olago does not have a stand and keeps jumping on to parties, basing her argument on the decision by the former to ditch Ford Kenya for DAP-K before shifting base to MDG.
Buyu says that ODM party is now stronger in the constituency and the people are more conscious. They believe that ODM leader Raila Odinga will win the presidency and would like to give him a party force.
She says she has opted not to run for the woman representative seat for a second time because it is an affirmative action seat.
Buyu believes she has built herself a strong profile during the term she served as a woman rep. In an interview with The Standard, Buyu claimed that she implemented several projects in the entire county, including Kisumu West.
She says she intends to continue with the track record and will transform the constituency by improving its infrastructure.
For 45-year-old Onyango, a businessman, who is making a third stab for the seat after the past two ended in failures, he is optimistic that he has now done enough to convince the constituents to embrace his leadership potential.
Onyango is banking on support from the youth in the constituency whom he claims he has a serious network with. He claims that in 2013 he was a youthful candidate but gave his opponents a run for their money.
Oluoch, who worked as a medical doctor and a pilot and is vying as an independent, says it is time for change for residents living in Kisumu West.
He argues that having witnessed and experienced the same leadership styles over the years, he developed an interest to bring change. He has been conducting door-to-door campaigns.
He says that the first 100 days after being sworn in, he will start a radio station in the area to have direct interactions with his people.
"Through the radio station, people will be able to directly talk to me about their needs freely and openly. We will be having frequent sessions just for the people," Oluoch adds.