Chess: Atieno and Okoth shine at Kisumu Venmar Chess tourney
Velma Atieno and Harrell Okoth are the champions of the second edition of the Venmar Junior Chess tournament played in Kisumu over the weekend.
Atieno and Okoth finished ahead of the over 50 junior chess masters in what was the last chess tournament to be held in Kisumu as schools break for the Christmas holiday.
Both finished with six points after winning all their six-board matches.
Mercy Achieng finished as the best senior girl with John Rushing winning the best senior boy.
National chess Instructor Isaac Ondeng lauded the performance saying it was an upgrade of the previous tournament and a reflection that the students learning curve is steepening.
"I want to encouraged the kids to take up sports more seriously as in today's world, sports is not just for fun but also a career and it pleases me to see kids take up sporting activities at a young age," said Ondeng.
Other students who performed well and exuded potential were Leon Darlingtone, narrowly missing gold and settling on silver (second place) in Boys junior category and Liz Cullen also losing narrowly to John Rushing.
Defending champions Emmanuel Hawi and Amelia Obinga failed to defend their titles.
Hawi topped overall ahead of 64 juniors who participated during the first edition of the chess tourney played on September 27 after amassing five wins while Obinga defeated Elsie Caren, and Harrel Akoth to emerge top girl with five wins.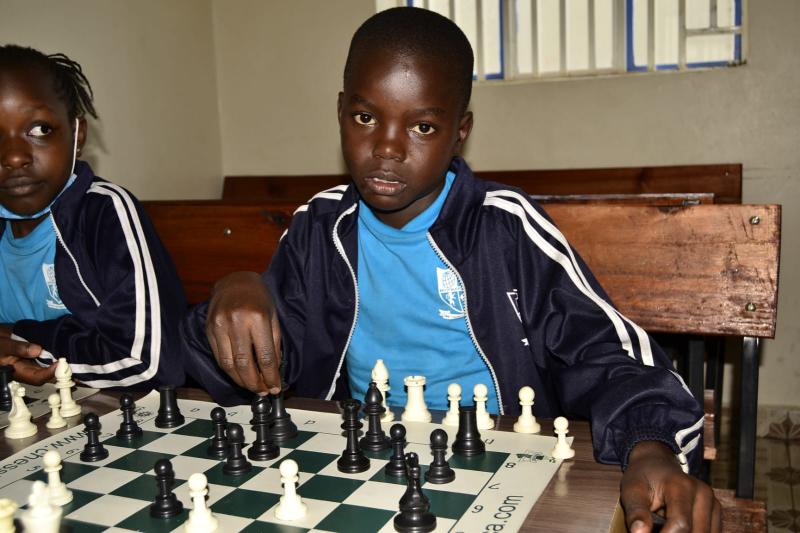 Just like in the first edition, overall, girls did better than boys which Ondeng lauded as they continue to push for more female players to join chess to increase the number of female chess players in the national team.
Senior top 3
1.John Rushing 5points(male)
2.Liz Cullen 4 points (female)
3.Noella Amollo 4 points(female)
Junior top 3
1.Velma Atieno 6 points
2.Eva Freya 5points
3.Hawi Milan 4points