"City Festival on Wheels" Young Anthony Muchai eyes the sky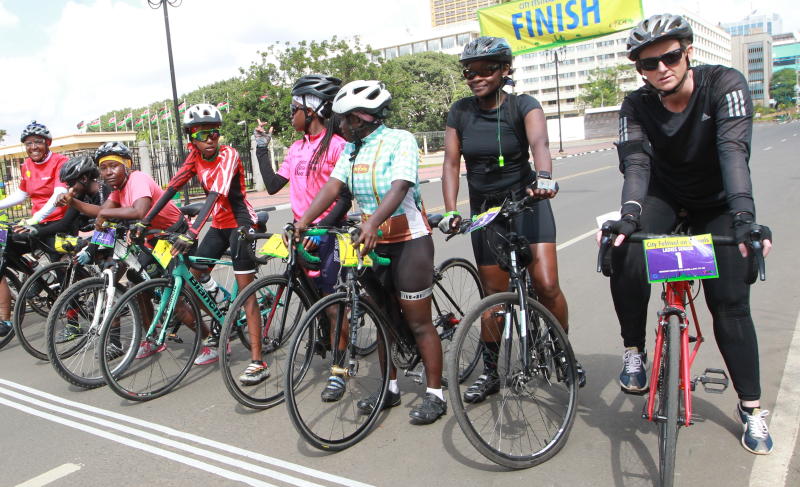 He knew nothing about racing, he was just like any other kid. Everything was interesting to him.
He wanted to learn how to fix his bike, he wanted to come on longer rides with us.
These are words of Njenga, father to the winner in the junior category of the City Festivals on Wheels 2021.
He believes that Cycling is a sport that helps to develop the type of tactical thinking that can make for a good cyclist. Muchai finally got his own road bike.
Despite the move, the cycling bug has stayed with him, and in the holidays he would return to ride with Spin Kings cycling team, with his father.
Muchai was inspired by his father when he went back to cycling when every sporting activity and school had closed down.
'When he saw us going for training, he started asking to come to races. He was focused from the beginning but he wasn't a strong rider. He was young, skinny and shy. At first, we didn't take him seriously. But upstairs he was very disciplined." said Njenga.
With the prolonged shutdown, increasing Covid -19 surge, across the globe, meant that cycling around the countryside and townships was a potentially better undertaking, particularly for a young school-going boy.
Anthony Muchai, a form three student at St. Mary's School in Nairobi, and with the family's fortunes looking up, the 17-year-old started spending much of his free time at Spin Kings during the time school had shut due to covid-19 shutdown.
"We meet on Saturdays where we race between 30-40km around the city and on Sundays we race an average of 100km.
Muchai attends the Saturday sessions and cycles from school every day and is able to manage his time well so as not to interfere with his studies." said Njenga.
Known as 'the straight one' for his beanpole physique, Muchai started competing in the boys' races where elite riders who later became his mentors alongside his father and sister.
He says after school he will make it a hobby. "I foresee myself going cycling." said Muchai.
David Kinjah, an advocate of the life-changing potential of the bike is out to support the young riders.
Through his firm Africa Extreme, he partnered with the National Transport and Safety Authority (NTSA) together with the European Union Delegation to mark World Day for Road Crash Victims.
Through the festival, the event is advocating for road safety with a particular emphasis on the safety requirements for non-motorised transportation.
The main aim of the festival was to encourage cycling as an alternative and green solution for daily commuting and healthy lifestyles. The clarion call for the festival 'Good for People, Good for the Planet'.
"This event allows us to think of the earth and the lifestyle we live. We take care of the homes we live in, but as humans, we are not doing enough to take care of the earth as our home." Said Kinja.
He further noted that the event is an opportunity to reflect on Climate Change from the perspective of reducing emissions by adapting low environmental footprint modes of transport, like cycling in cities.
"We can draw inspiration from cycling cities such as Paris, Germany, Sweden and Denmark among others, for Nairobi," added Kinja adding that cycling it's a powerful sporting event.
"Cycling is not a sport for cry-babies. Cycling suits Kenyans because you need to be lean, you need to be smart, you need to endure, and you need to be hardcore.
Kenyans are already hardcore because of their lifestyle. We just need to transfer that to the bicycle. There's no one eating chips or hamburgers in the villages," said Kinja.
The Director-General NTSA, George Njao, said the Authority, the main focus is to ensure all road users are safe within their preferred mode of transport.
"We are committed to working with various stakeholders to develop and implement interventions that will ultimately address the challenges and improve road safety in Kenya.
The festival event and the collaboration provides an opportunity to increase public awareness on road traffic crashes and its impact on individuals, families, and communities," said Njao.
He added that NTSA is partnering with the European Union for a 6-year programme dubbed "Usalama Barabarani' that is currently under implementation in six counties.
E.U Ambassador to Kenya and Head of Delegation Hon. Henriette Geiger said "The European Union is known as the home of cycling.
We cycle to reduce the strain on public transportation, and since the Covid-19 crisis started, cycling has proved to be an effective way of moving while reducing carbon emissions, air pollution, and maintaining a healthy lifestyle.
We hope to spark a conversation on how we can best work together to build a greener, cleaner cities through cycling and alternative means of transportations, while at the same time avoiding and preventing traffic accidents," said Geiger.
The event brought together several categories of wheels - from amateur skaters, junior cyclists to the elite group, which also features professional cyclists.
The event provides an opportunity for fun and competition, while at the same time placing focus on cycling as an alternative form of transport that is affordable, environmentally friendly and healthy.?