Football: Mid City Soccer Academy using nutrition to endear children to sport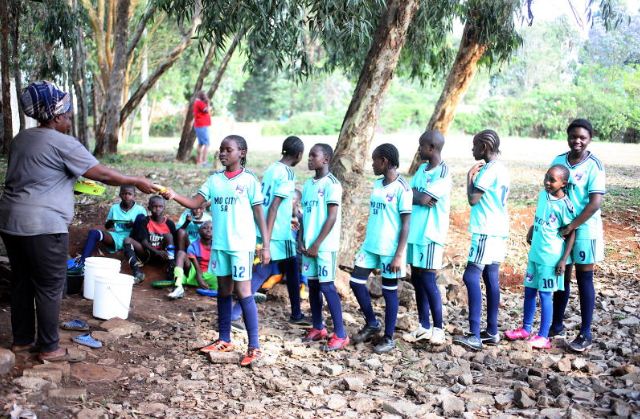 Imagine being rewarded with a balanced diet when you play football! Sounds strange but this is the story of Mid City Soccer Academy located at the De Paul Centre in Karen, Nairobi.
The academy is using an effective nutrition programme to endear children to the sport.
The players are mostly from disadvantaged backgrounds who have less or nothing to eat at home.
"I started the academy two years ago with players from Lucky Summer estate. The objective was to give back to society," Anette Mbuvi narrates.
The number increased when Mbuvi introduced a feeding programme every week where the players are given a balanced diet including porridge, meat, eggs, bananas, beans among others after the exercises.
The children went and spread the 'gospel' quickly to their friends. Soon the numbers swelled.
The academy now has 60 players from Kayole, Kibera, Kuwinda and Lucky Summer slums.
"I realised the children could miss the weekly training sessions due to hunger pangs. So I introduced food, and because of the sumptuous nutrition programme, they no longer miss training. Attendance is now almost a hundred per cent every week," Mbuvi said.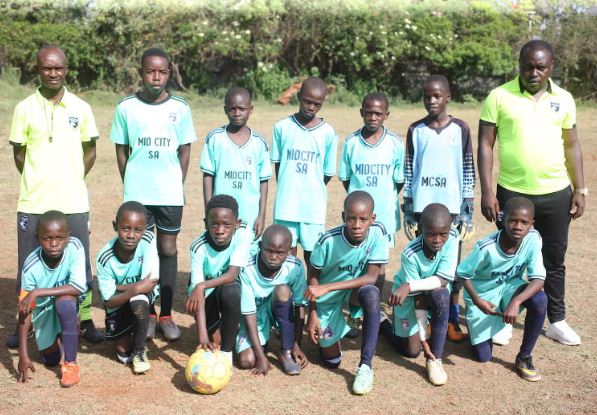 Kids who live nearby train on Thursdays and Fridays between 4pm to 5.30pm at the centre that has been given free of charge by the nearby Catholic Church.
Players who stay far attend either the 9am to 12pm schedule or the 2pm to 4:30pm sessions on Saturday and Sunday.
"I no longer miss the sessions, I also love the food cooked for us, especially the rice," Angel Wamaitha, who plays for girls U-13, admitted.
"Today (last Sunday) we were taught how to relay passes and shoot effectively," the Standard seven pupil at Karen C Primary School added.
The academy head coach David Vijago said their training that revolves around physical and mental health and social fibre has helped the children to avoid rampant crime and drug abuse in the slums.
"In physical fitness, they are equipped with healthy lifestyles to stay fit," says Robert Kamwara whose son Cruz plays in the boys U-11. Mentally, the players are helped to cope with trauma at home including poverty, drugs, crime and the Covid -19 stress. They are helped to think and focus on their future.
"Socially, the academy promotes brotherhood as boys are able to play and mingle freely with girls.
"Also children from the slums are able to interact with their counterparts from rich neighbourhoods who have now joined the academy under the self-sponsored programme," says Kamwara.
"We have helped the self-sponsored players to be active by avoiding sedentary lifestyles like playing endless video games and PlayStations and spending needless times on social media gossiping," Vijago says.
"We have seen exponential growth as our U17 has so far produced two players who have signed for the Football Kenya Federation National Super League sides Kibera Black Stars and Kibera Soccer this season.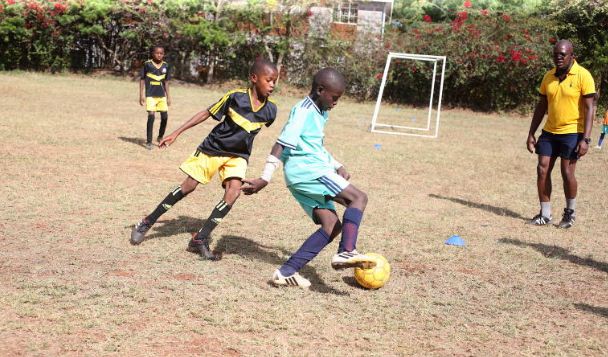 Vijago explains that funds from the self-sponsored players, whose numbers are almost equal to those from disadvantaged backgrounds, is used to fund the nutrition programme at the center.
The academy is set to engage in its first ever tournament in December this year where opponents from outside have been invited.
So far Mid City has taken part in three championships with their boys U-13 winning the Cheza Sports Tournament in 2019 and UFA Cup July this year.
The U-13 and U-17 categories are also set to travel to Netherlands next year for the TVG Sports Easter Open Tournament slated for April.
Mid City has partnered with several schools where talented players are now secured full scholarships.