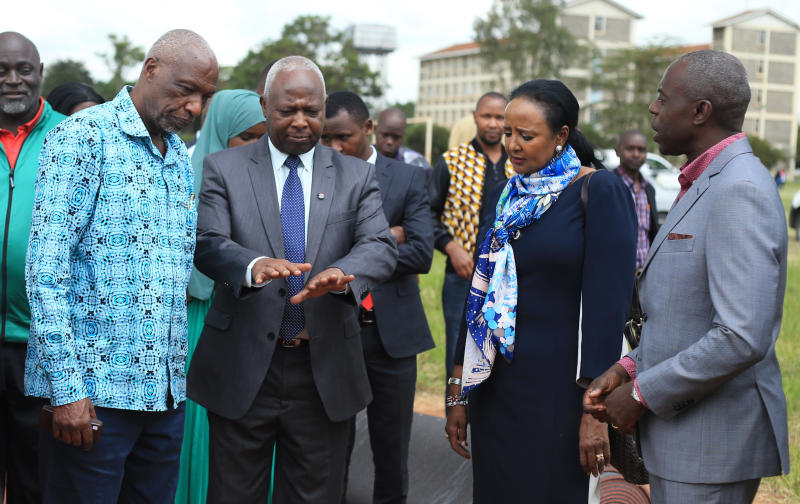 Sports Cabinet Secretary Amina Mohamed and Steering Committee inspected facilities at Kenyatta University ahead of World Under-20 Athletics Championships set for Kasarani Stadium from July 7.
Steering Committee Jackson Tuwei, event's chief executive Mike Rabar, Kenyatta University Vice Chancellor Prof Paul Wainaina and other officials accompanied the Cabinet Secretary in assessing the preparations for the global showpiece. They toured KU Nyayo Hostels, kitchen and warm-up track.
"We came to access preparations for the world under-20. The facilities are in good condition and only needs minor renovations that will take less than two months. The laying of remaining tartan track will start in two weeks' time and will take the shortest time possible. In two months, we will get everything done and ready to host the world," Amina said.
At the same time, two doctors from World Athletics are in the country to inspect the state of the medical centre and also conduct workshops to 17 medics in readiness for the competition.
"The two doctors are running workshops to the 17 medics, ten from Kenya and 7 from other countries that will be attending to the athletes during the championships," Tuwei said.
Tuwei said the doctors will mount a device at Kasarani Stadium to monitor air conditions at the stadium ahead of the championships. A team from World Athletics will do another inspection next month.
Meanwhile, former Premier League general secretary Nic Coward has been appointed as UK Athletics' interim chief executive.
Coward has twice been interim chief executive of the Football Association. "Athletics is a sport that captures the nation's imagination each and every year," he said.