Kenyan stars shine in Cana Zone Three championships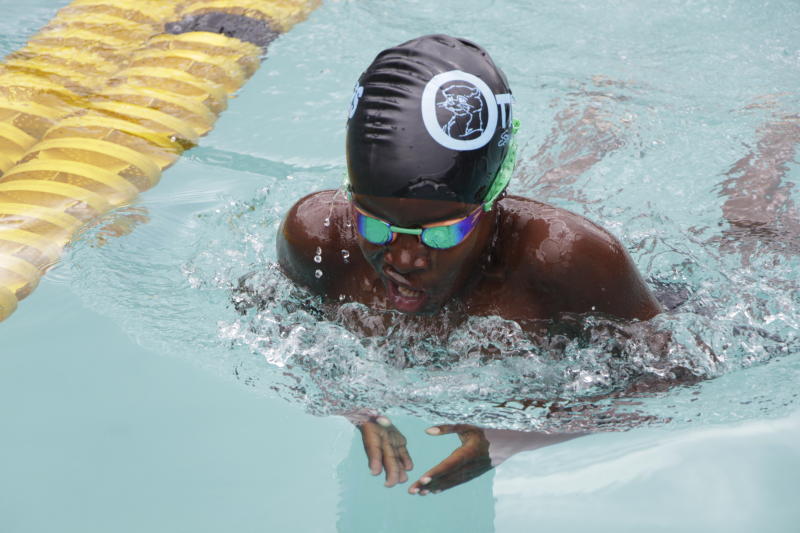 Kenyans continued their impressive show in the ongoing CANA Zone Three Swimming and Open Water Championships at Kasarani Aquatic Stadium yesterday.
Johari Masinde bagged gold in the boys 11 to 12 years 50m butterfly contest after clocking 30.90 seconds. Joshua Masakha, another Kenyan, took silver in a time of 31.27 seconds with Uganda's Kigundu Tyaba trailing in 2.37 seconds to settle for bronze.
Masinde proved his prowess in the butterfly category when he swam in a time of 1:14.40 to win 100m gold with Masakha and Kigundu settling for silver and bronze respectively.
Imara Bella Thorpe won gold in girls' over 17 years 50m and 100m butterfly. Thorpe would lead Nasimiyu Khatundi and Nicole Kamau to a clean sweep in 50m in a time of 29.66 seconds with Khatundi taking silver in 31.66 seconds and Makau sealing the podium places in 33.92 seconds. She had earlier splashed to 100m gold ahead of Riva Karia and Tanzania's Sylvia Caloiaro who settled for silver and bronze.
Victoria Okumu won gold in girls' 15 to 16 years 100m butterfly ahead of the South African duo of Lerato Thobeha and Christine Mbite. Okumu clocked one minute, 11.44 seconds while Thobeha (1:11.61) and Mbite (1:11.68) finished second and third. Kenya's Lubaina Ali Islam ruled the girls' 13 to 14 years 100m butterfly contest in a time of 1:12.98 with Zambia's Julijana Vidmar (1:19.15) and Uganda's Sophia Nagayi (1:24.54) taking silver and bronze.
Ashley Kagwima settled for bronze in girls' 11 to 12 years 100m butterfly after finishing third in 1:21.74 behind Tamenji Miti of Zambia and Sydney Hardeman of Tanzania who won gold and silver respectively. Tabuka Bifwoli splashed to gold in boys' 15 to 16 years 100m butterfly category in 1:01.04 with Zambia's Brandon Rumball (1:02.12) and South Africa's Rajiv Hofmeister (1:03.95) taking silver and bronze. Mohammed Khandwalla, another Kenyan, finished a distant sixth.
Ivan Hart won silver in boys 13 to 14 years 100m butterfly behind Liam Rumball of Zambia who took gold with Uganda's Steve Magera completing the podium place. Hart would settle for bronze in the 50m butterfly contest with Liam once again taking gold and Magera improving on his third place finish in the longer race to take silver.
Kenyans were overpowered in the boys 17 years and over 50m butterfly challenge.