Fortunes multiplied thanks to value addition machines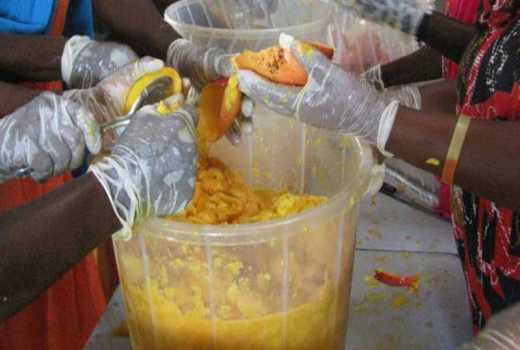 Tucked away on a small hill overlooking vast mango fields in Kithoni, Makueni County, is a mango processing plant that is using technology to fight post-harvest losses in the mango value chain.
The community-based facility is, perhaps, the second biggest sensation for Makueni residents in less than a year after Governor Kivutha Kibwana launched Makueni Fruit Processing Plant, the mango processing project in the county.
And now, Kithoni Women's Group stands tall, a few miles from the other side of the hill where the county's mango project, which specialises solely in mango puree, is located.
Farmers here have discovered that by stretching what technology has to offer, they can make a tidy sum from the fruits.
The group chair Jackson Musyoka traces the humble beginning of the group to about 200 farmers.
"Most farmers just used to sell raw mangoes, which fetched us very little. Then, when there was over an supply in the market, we would suffer losses because the fruits would just rot away on the farms," Musyoka says.
In a nutshell, Musyoka says the group was struggling and their profit margins were nothing to write home about. This was in 2012.
But Lady Luck smiled on them when the group met a research team from Jomo Kenyatta University of Agriculture and Technology (JKUAT) that was piloting modern technologies on value addition and post-harvest solutions that small holder farmers can embrace to maximise on their profits.
"The aim of this project is to empower farmers especially women in rural communities," says Prof Daniel Sila, the lead project manager and a lecturer in the department of Food Science and Technology at JKUAT.
"We have embarked on a journey to empower them with the latest technologies and training in reducing post-harvest losses to a manageable percentage."
Prior to rolling out the project, JKUAT -- with the backing of United Nations, the Rockefeller Foundation and TechnoServe -- had undertaken a research that shed light on challenges farmers face in the mango value chain.
HOW THE PROJECT WORKS
Also sponsoring the project was Japan International Cooperation Agency (JICA). The findings of the study that was conducted among 55 women from key mango producers in Kenya indicated that farmers incurred up to 60 per cent of post-harvest losses.
"We discovered that farmers are offered low prices for their mangoes and sometimes lack market at all especially when the fruit is in season," says Prof Sila.
As part of the capacity building, the group was introduced to the fruit pulper for value addition purposes. With the fruit pulper, Prof Sila says the women, who have been trained at the university, are able to make an assortment of value-added mango products that include juice, yoghurt, smoothies, wine and mango leather.
With the value-added products ready, the next stage has been the market of which the uptake of the products has been slow.
"Some of these are new products that residents have never heard of before. But with time, they will be known and everyone will be asking for mango jam, mango yoghurt and mango leather," points out Prof Sila.
But the good news that mango juice commands a longer shelf life. The juice can be stored at room temperature and pressure for at least one and a half years. This means that farmers no-longer have to worry about perishability of mangoes, whether or not they have cold storage facilities.
And the cash is also good. According to statistics provided by the group, a kilo of puree which sells at Sh45 can produce at least 5 litres of ready-to-drink (RTD) juice.
COST OF POST HARVEST LOSSES
At the moment, the group sells a 500-gramme bottle of RTD juice at Sh100, meaning a kilogramme churns out double the amount. In short, a little value added to a Sh45 kilogramme of mango puree brings in a tidy Sh1,000.
"The secret these days is more value-addition across the chain. Value-addition is the only way that farmers can get an additional value," says Prof Sila.
To make the profits juicier, the pulp can be further processed to concentrate which is sold at Sh300 per litre. "We have made most of the products but mango juice sells out like nothing else. Most people are now buying mango juice to avoid soda that is loaded with many harmful chemicals," Musyoka says.
Since the launch of the project, JKUAT has trained 150 farmers from five mango-producing regions of Kenya.