Farmers warned against buying uncertified seeds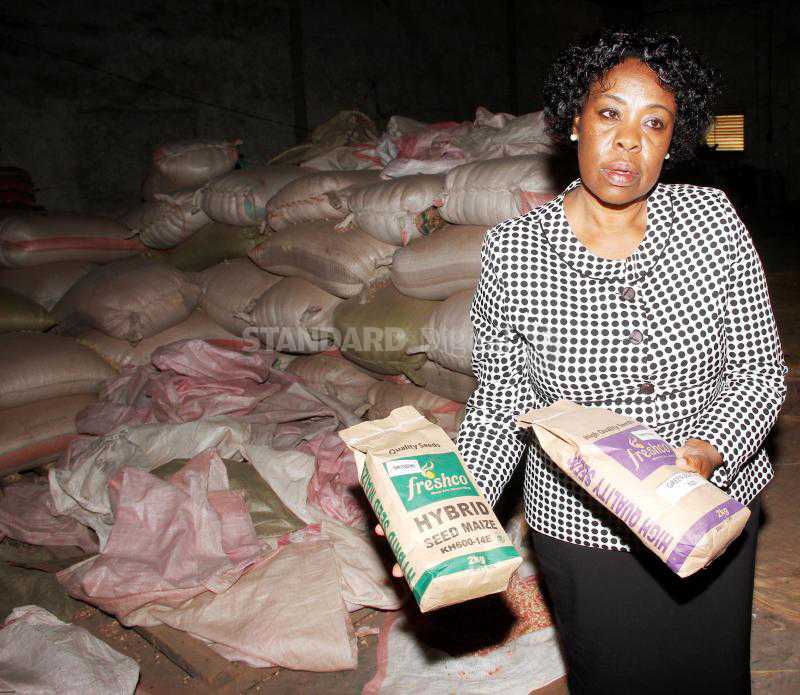 Kenya Plant Health Inspectorate Service (Kephis) has confiscated 13,500kgs of counterfeit seeds worth Sh2.5 million.
The fake seeds were seized in a warehouse in Nakuru town, said Kephis managing director Esther Kimani.
"It is unfortunate that some seed producing companies have taken advantage of the planting season to sell uncertified seeds to farmers," Dr Kimani said.
"Farmers should be careful. They should not purchase seeds not certified by Kephis. Most of them don't germinate while others give poor yields," she said.
Dr Kimani spoke yesterday at stores leased by the National Cereals and Produce Board where 13.5 tons of uncertified seeds were found.
Seeds confiscated during the raid included maize, soybeans, sorghum and green grams. They had been packaged ready for distribution to farmers in various parts of the country.
"Kephis officers received information that some of the seeds being sold to farmers are not certified. Some of stockiest who were selling the seeds led us to the NCPD stores," she said.
Prior to the raid, the fake seeds had already been sold to farmers in Molo, Nyahururu and Homa Bay.
The seeds had been sealed and labelled to deceive farmers they are fit for planting.
"All seeds should bear Kephis label and further have a seal indicating the date of production and as well as the lifespan," she added.
The company caught in the racket, Kimani said, had been warned severally about selling fake seeds. Dr Kimani said stern action will be taken against the guilty firms to serve as an example to others with similar intentions.
Kimani said her agency will work with farmers and other stakeholders to ensure supply of quality seeds.
"Kephis will not allow companies to mislead farmers by selling them counterfeit seeds. We'll put in place stringent to save farmers," said the official.
Kimani said their officers will continue inspecting seeds sold in the country to ensure farmers are not duped by unscrupulous traders.