Magara: How I run my modern dairy unit to milk more profits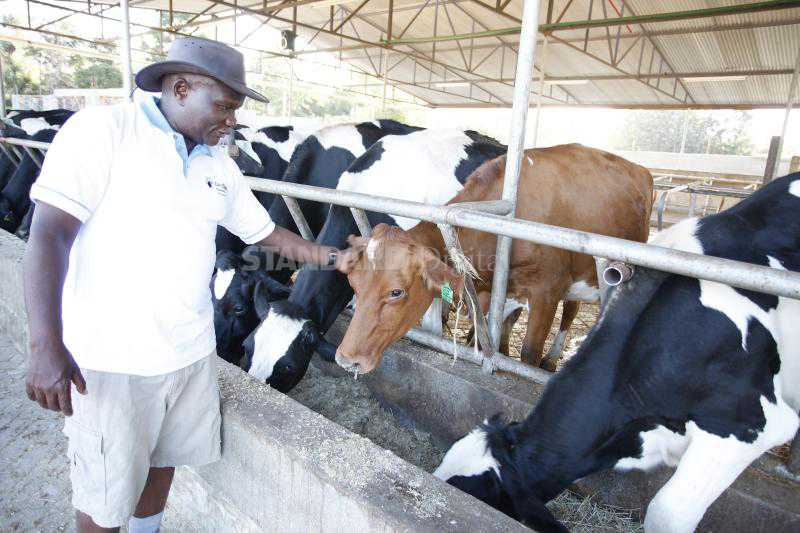 Fantastic. That is what best describes former South Mugirango MP Omingo Magara's farm tucked deep inside Ongata Rongai. His one-acre farm is an example of how to run a modern-day dairy unit.
From the high investment in computerised milking machines, to the high standards of hygiene practised by the farmhands; everything spells Europe-style class.
"Like human beings, cows are sensitive creatures. If you treat them well, they will also serve you well with volumes of milk. That is why I invested in hi-tech technology. These machines are so spot on, they cannot milk a sick cow," the former politician says as he ushers Smart Harvest team into his farm.
After politics became too hot to handle (Magara lost in the 2017 Kisii County Senate race) he settled into the quiet farming life and the rewards are evident.
"Farming is relaxing and peaceful compared to politics. It is an enriching life," he says.
With all the time in his hands, he has now revived his dairy empire which is on a path to excellence.
He delivers 3,500 litres of milk twice a week to Kenya Seed, his neighbours and new referrals.
Love affair with farming
Magara's dalliance with farming began way back.
"I have always loved farming since I was a child. Actually, when I was in Nduru High School, Agriculture was one of my favourite subjects."
But what really drove him to serious farming is a milk pollution incident in Ukraine in 1991.
"I decided to venture into commercial milk production to help curb a similar calamity in Kenya," says Magara.
Though the venture is mammoth, he started with just three cows (five months old) in 2010.
His parent breed was from the Rift Valley Institute of Technology Farm which he bought at Sh150,000 each.
"The three gave me female calves and I was excited," he says.
Slowly, one calf at a time, his herd grew.
Now he boasts 78 dairy cows comprising high yielders, low yielders, in-calf heifers, and unweaned heifers housed in different sections of the unit depending on age and development stage.
So what has it taken to reach this far?
"A lot," he interjects. "Commitment, dedication and willingness to embrace technology."
To boost milk yields, he gives the cows the right feed and ensures they get the right feed comprising minerals and supplements.
Technology has also played a role in boosting yields.
"The use of imported milking machines and chilling tanks from Netherlands has helped improve efficiency, hygiene and reduced milking time besides cutting labour costs," he says.
According to Omingo the machines are not only accurate but faster, help in maintaining top hygiene standards and do not interfere with the hormones that trigger milk flow.
"The machines can effectively milk 10 cows within seven minutes or 40 cows an hour . The milk is then filtered before it is finally transferred into the chilling tank which has a capacity of 2,150 litres. The milk is safely stored for four days."
How they handle mastitis
Like all dairy herd keepers, the farm also faces challenge of mastitis.
"The mother of mastitis is poor hygiene and all my farmhands know that. We do not compromise when it comes to cleanliness. The cow pens are clean and dry and the handlers are also clean," he says as he takes us through the disinfected water bath at the entry of the unit.
He says use of milking machines also keeps mastitis at bay because it maintains high hygiene standards and milking is done efficiently.
Not a walk in the park
Mastitis aside, his cows have also suffered diseases such as milk fever in the past.
"To avoid such problems, I made sure they were given enough supplements and the right diet to prevent the problem from reoccurring," says the farmer who has lost more than 20 cows to disease, mismanagement and old age.
Mistakes are bound to happen even in an established farm, has he suffered such?
"Oh yes! At first I had trouble finding the perfect ratio for the dairy milk feed – since I did the mixing by myself. I didn't know the right meals to give my cows and ended up giving them too much soya meal leading to death of some."
Indeed, for a mega unit like this, challenges abound.
"When you see all these you may think it has been a walk in the park. Far from it. We have had good and bad days," he says.
Climate change
One of the biggest challenges he faces is buying animal feed. Actually in a month, he spends Sh500,000 on feed.
But the good thing is that the milk yields are encouraging.
With five workers (manager included) Magara gets 500 litres of milk a day from 24 cows.
Climate change that has occasioned long dry spells is another hurdle.
"Feed scarcity is a problem because of the current erratic weather patterns. To get around this, I plan to start growing hay. I also make my own feeds by buying ingredients which I mix using my own posho mill. They include maize jam, cotton seed, sun flour cake, Afro toxin urea, premix, binder, yeast, high phosphorus premix and lime mixed at a concentrated ratio," he says.
Getting quality and reliable farmhands has also been an issue.
"Lack of experienced workers forces me to keep changing them. This somewhat affected business at the beginning. But now I have a good team," he says.
For farmers aspiring to be like him, he has plenty of take homes.
"It is important for farmers to identify a reliable market before they start because of the perishable nature of the produce. Joining hands in groups also helps because the unit can buy milk storage equipment like coolers and they have a stronger bargaining power in the market," he says.
Word of mouth
More importantly is record keeping. Magara explains that this enables a farmer know how much he spends on each animal and if it is worth it.
He says without proper records; one cannot know whether they are making losses or profits.
For new clients, he relies on word of mouth.
"My clients know my milk is of high quality. In this era when farmers are using all manner of chemicals to increase their milk yields, farmers like us who maintain quality have solid and regular buyers," he says.
And how does he juggle his other roles and farming?
"I always know where to be at the right time. This way, juggling becomes easy."
Going forward, Magara plans to start making yoghurt and cheese for the local and international market. He already has the necessary equipment to facilitate this grand plan.