SURVIVAL FOR THE FITTEST: Fans brace for action at Jamhuri as ARC Safari preps gather pace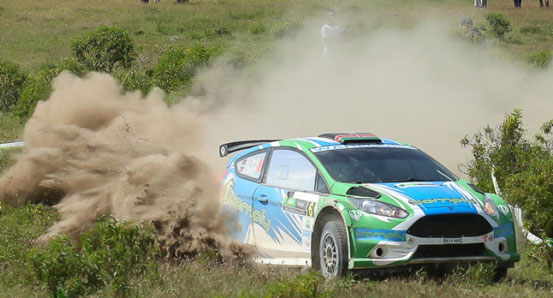 This year's Safari Rally has been designed with safety and spectators in mind, clerk of the course, Gurvir Babra, said yesterday.
Nairobi residents will follow the action from Jamhuri Park Autocross racetrack, where a 2km competitive stage will treat them to some hair-raising thrills.
"Spectators will watch cars in full action at Jamhuri after the ceremonial start," said Babra.
The rally will be flagged off at KICC grounds next Friday from 8am, after which, the cars will take a short transport road section to Jamhuri for the designated spectator stage.
Unlike previous years when the event was staged over three days, this time round, it will be a two-day affair.
Barbra said Nairobi's travelling fans and their upcountry counterparts can catch action from Aberdare Hills Golf Resort in Naivasha and on the expansive Elementeita.
"Spectators willing to access Aberdare and Elementeita will do so at a fee payable to the two conservancies. There will also be a designated parking area for spectators at both locations," said Babra.
This year's Safari will revisit historic locations in the Great Rift, including the March 18 ceremonial finish at Afraha Stadium.
The total competitive distance is 201km, with a transport mileage of 280km for a total of 482km. The Jamhuri (2km) stage, the shortest phase of the two-day race, will start at 8:53am.
After Jamhuri, teams will tackle two stages at Ngong (CS2) and Suswa (CS3), before going for service at Suswa Park.
The CS4 action will be at Kedong Ranch, which is a 12km ride on volcanic ash soil. The end of Leg 1 will be a run through the 18km Aberdare Hills stage and Bufallo Mall Naivasha, for an overnight closed park.
Leg one will feature a competitive distance of 84km, which will allow crews some rest in Naivasha.
Leg two on March 18 will start from the Bufallo Mall, before doing a repeat run in the Aberdare. The crews will then encounter the longest stage of 49km at Elementeita.
Thereafter, they will tackle Ndundori (CS8) then service on the same location, before driving into Gicheha Farm, then to Afraha Stadium, for ceremonial finish, after having the last service at Albiza.