Moses Kiptanui's switch from track champion to star dairy farmer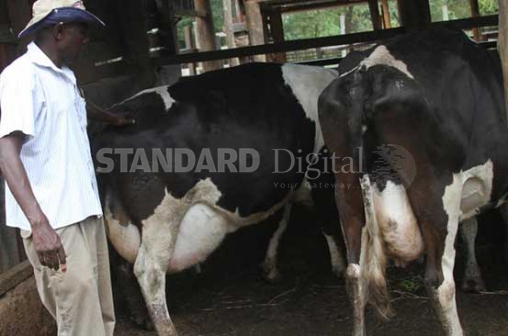 About 21 years ago during a Grand Prix meeting in Rome Olympic Stadium in Italy, Moses Kiptanui smashed the world record in a steeplechase race and as a prize, he was rewarded with a pedigree stallion — a male horse.
A horse, besides other goodies, was the ultimate prize for breaking a world record at that Grand Prix championship on June 8, 1995 event.
He blew the 5,000m field away to win in a time of 12 minutes and 55.30 seconds and ensured the thoroughbred was his.
But as a member of a cattle rearing community — the Kalenjin where he grew up to mooing of cattle at his backyard in Elgeyo Marakwet County in the Rift Valley, Kiptanui sold the horse reward.
Horse rearing, hundreds of miles away from home, presented logistical problems of transport back home thus he decided to sell it and make an alternative investment in dairy.
Model farm
It never occurred to him that the proceeds from the sale of the animal would change his life from being a steeplechase champion to an astute milk producer in the North Rift and big time real estate owner.
He produces over 500 litres of milk daily from 20 lactating breeds of Friesian cows raking in Sh500,000 monthly from the sale of the produce.
In his farm, he owns a herd of about 100 cows.
Kiptanui, then a new world record holder in 5,000m, was dazed by his prize as he took up the stirrups of the horse at the presentation ceremony.
"But even if I could have it hauled back home, a horse deep in the Marakwet countryside would present a most curious sight to villagers many of whom cannot tell the difference between horses and donkeys," he tells Smart Harvest.
So he sold it off for US $10,000 (Sh880,000) and invested in dairy farming, which eventually resulted in the birth of Moses Kiptanui dairy farming empire.
Today, Kiptanui's dairy farm is a model farm in the slopes of Cherangany hills where he has set the pace for eager neighbours who are focused in dairy farming.
A heifer at his farm goes for between Sh120,000 and Sh180,000.
Dairy unit
"I occasionally sell some cows to my neighbours who want to establish dairy farming as an enterprise.
The milk production has considerably shot up in the area," he tells Smart Harvest during a visit to his 100-acre plot.
This increased production volumes has necessitated installation of a milk cooling plant outside his farm gate where he is serving as a chairman.
Kiptanui has employed 12 farmhands and an animal health expert to monitor the cows' production and the general health.
Milking is also mechanised with 20 cows lactating and the best producer giving over 30 litres a day. He supplies his produce to Brookside milk processor.
"Initially I used convectional feeding method before I built a dairy unit and invested in commercial feeds which are nutritious thus ensuring maximum production after improving on the breeds," says the 48-year-old former steeplechaser turned farmer.
In his farm, record keeping is of essence, all the animals are ear-tagged and their corresponding production and health status is recorded and updated accordingly.
His farm is meticulously paddocked to ensure the animals are separated depending on their age, category of sex and production. This also dictates the kind of feeds the animals are fed with.
Record keeping
"Within the dairy unit there are only cows which are lactating and once they dry-off they are separated and fed with different feeds to prepare them for the next phase," he says.
The dry period is the most important phase of a dairy cow's lactation cycle. During this phase, the cow and her udder are prepared for the next lactation; hence any abnormalities during the dry period will have a negative effect on the cow's health and milk production after calving.
"Early lactation mastitis cases has an origin in the dry period. Therefore, to prevent new infections from occurring prior to calving and to cure any existing infections, dairy cows should be dried off carefully," says Kiptanui.
He adds that, at this time, a health expert comes in handy.
Two critical stages of the dry period when udder health is at risk are: the first week after drying off and the week prior to calving. During the first critical stage, the udder's natural defence mechanism − a keratin plug in the teat canal − is formed, while in the second stage, prior to calving, this plug slowly disappears in preparation for lactation.
The keratin plug prevents bacteria from entering the teat canal during the dry period.
To ensure healthy and prolific calves, Kiptanui separates them to prevent risks of contracting diseases through contact with young livestock or grown cows.
"The calves are housed in pens up to one year and fed with milk from the cows until they are weaned. Before the heifers are separated from bulls," he says.
Super breeds
In his farm, pedigree bulls weigh up to 1,200kgs, which he sells at Sh200,000 upwards.
He sells them to established butcheries in Eldoret town for meat while young bulls are sold to breeders.
"Dairy farming is profitable and with the right expertise, one can generate income into millions of shillings. To maintain prolific in my animals I serve the cows through Artificial Insemination with superior breeds," he says.
He says the venture has made him take his five children through the university with ease.
However milk price fluctuations, expensive feeds and unavailability of some high protein content feeds are some of his challenges.
Silage, dairy meal, hay, sweet potato vines among other feeds form the bulk of his animal feeds.
He intends to improve the dairy unit fitted with a milk cooling plant and import high yielding pedigree breeds since those he has were locally sourced.
Also insuring the animals are also in his plans to sustain the enterprise profitability.
"To keep abreast with the changing technology, I seldom miss agricultural trade fairs and exhibitions besides visiting top dairy farms in the country," he says.
Kiptanui's real estate establishments include the Komora Centre, Utamaduni House and Tulin Supermarket in Eldoret; one of the structures that have drastically changed Eldoret's skyline lately.
Tech firm banks on partnerships to grow
Office automation and ICT firm, Copy Cat Group, is banking on partnerships with global IT brands to help it deliver high-level services as it seeks to grow its market in the region.