How I turned Sh10,000 into a multi million-shilling venture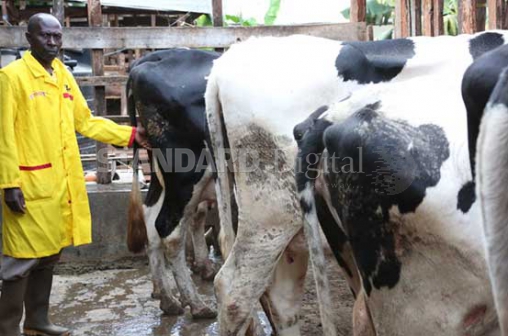 With only Sh10,000 and eager to venture into dairy farming, life looked rather bleak for Peter Njoroge. That was in 1992.
But the inadequate capital to establish a dairy enterprise did not deter the 57-year-old from Mukurweini, Nyeri County, who soldiered on with his plan. "A 1,000 mile journey starts with one step," he says.
Njoroge had to weigh his options carefully before he could put his only Sh10,000 into buying a dairy cow. He had just lost his herd of three cows to mastitis the previous year. Buying another cow was just not a wise idea.
Besides, the Mukurweini Dairy Farmer's Co-operative Society was on its knees following a string of mismanagement blunders.
The father of four was, however, optimistic that with time, he would turn the tables around. He even encouraged his neighbors to venture into commercial dairy farming. Thus, he approached the society for a loan to purchase a 1.6 acre farm and increase his stock.
Njoroge who had worked for the local government for 30 years as a livestock extension officer has never looked back. "Last year, I decided to take an early retirement to concentrate on my farming activities. It is quite involving and requires my undivided attention round the clock," he says.
His herd has grown to the current 17 dairy cows, earning him fame as one of the leading dairy farmers in Kenya. His farm draws visitors from as far as Kuria in Migori County.
From his seven lactating Friesian cows, Njoroge gets 180 litres of milk daily. Two of his cows, a mother and daughter, produce at least 47 and 38 litres respectively ever day.
With future prospects looking promising, Njoroge says he makes at least Sh2.5 million from his dairy products — milk and yoghurt — annually. "Most of the milk produced is consumed in Mukurwer-ini town, where I have several milk bars. I also supply banks, hotels, and hospitals in the area," he says.
A litre of milk sells for between Sh35 and Sh45 depending on the demand, which Njoroge says he is unable to meet. Like all other farmers keen to maximise their profits, Njoroge has embraced value addition by making his own brand of yoghurt, Farm Gold.
"Farm Gold has been certified by the Kenya Bureau of Standards (Kebs) and is available in the market," he says. "Yoghurt made from fresh milk that has not been preserved for long is of high quality."
Njoroge sells 80 litres of yoghurt packed in half-litre bottles daily. With each bottle fetching Sh70, he makes Sh5,600 daily and Sh168,000 per month.
What is the secret to his success? With a smile, Njoroge says a number of factors come into play.
The quality of the breed and feeds are the most important, he says. Every aspiring farmer, he says, must first think of how and where he will get a constant supply of feed even before he buys livestock.
"I feed my 17 cows on silage because it has high energy content compared to nappier grass," he says.
For high quality silage, the maize is harvested two to three months before maturity when both the maize seed and stalk have high sugar content.
Njoroge crushes the green maize and stores it in 30 wooden silos scattered across his farm. The silos must be airtight as any small amount of air may destroy the entire feed.
"Concentrates supplied by manufactures of animal feeds alone cannot be relied on for maximum milk production," he says.
His enterprise has not been without challenges though, with skyrocketing prices of animal feeds being at the top. "The government should lower the taxes charged on animal feeds," the father of four says.
His other challenges are lack of enough quality roughage and labour. He also cites poor milk prices, which fluctuate depending on the weather, and animal diseases, especially mastitis, as other key challenges.
His plan is to increase his stock from 17 to 50 and scale up milk production from 180 to 500 litres daily. He also hopes to establish his own milk processing plant.
Njoroge also offers training to farmers from as far as Uganda and Rwanda, on animal production and nutrition. "I receive between, 250 to 300 calls from farmers seeking advice or booking an appointment everyday," he tells Smart Harvest.
Starting thriving paw paw farm seed by seed
Papayas (paw paws) are like a gift from the gods! Easy to grow in home gardens and have a delicious, sweet flesh that can be enjoyed at the breakfast table for most of the year.