By ERICK OCHIENG'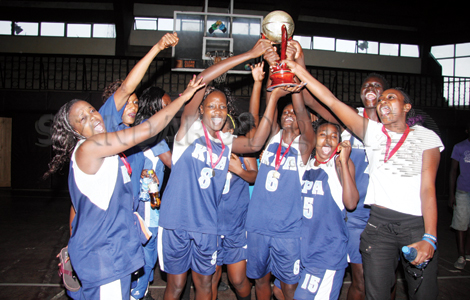 Kenya Ports Authority team celebrate winning the league title.
The 2013 season was a fruitful year for Kenya in basketball. This season was historic in that Kenya won its first ever medal in continental women club championship.
Former national champions Eagle Wings earned the country a bronze medal by finishing third of 12 countries and teams at the Africa Club Championship in Morocco, last month.
United States International University (USIU) managed a fifth place in the continental premier event. Besides, Kenya's Hilda Indasi, the former national Most Valuable Player(MVP), was voted the best three point shooter in Africa.
This was the year basketball fraternity got a sponsorship for the very first time, attracting pay television rival providers Zuku and SuperSport.
Zuku injected Sh50 million in the University Basketball League (ZUBL) which was used to cater for logistics and prizes. Kenya made history as the first country in Africa to beam university basketball league matches live across the continent.
In reply to Zuku move, SuperSport took over the Kenya Basketball Federation (KBF) leagues, spending millions of shillings to beam the national classic league matches live at the Safaricom Indoor Arena, Kasarani.
Despite not making it to the medal bracket in the continent, USIU are proud to be the Queens of ZUBL winning Sh150, 000 after thrashing Maseno University 82-38 in the finals.
University of Nairobi's Terror edged resilient and new entrants Mount Kenya University (MKU) Nakuru Campus 72-68 to win the ZUBL men's national finals with the help of their point man, Geoffrey Oteki who bagged the MVP award.
Winners of ZUBL stand to benefit from two scholarship opportunities courtesy of celebrated film star Samuel L. Jackson valued at approximately Sh5,000,000 (US$60,000) while league sponsors Zuku, have also committed approximately Sh3 million (US$36,000) to cater for an additional two students' university education, for a period of four years.
USIU got another shot in the arm when their coach, George Mayienga was this week named the Coach of The Year by KBF despite the university losing narrowly to the Kenya Ports Authority (KPA) in the race for KBF women's finals. It was a painful loss for the university outfit because the title evaded them in a similar manner during the 2012 finals against Eagle Wings.
KPA's Brenda Angeshi replaced Indasi as the 2013 MVP. KPA's victory saw them win the title for the 13th time, which was head coach Antony Ojukwu's eighth victory with the champions.
"We had no authority in the league this year, nobody expected us to reach the playoffs, nobody expected us to sail to the finals and just like true underdogs we came from behind to clinch the league,"Ojukwu told FeverPitch.
However, KPA were not lucky in the race for the KBF men's title which they lost to defending champions Co-op Bank's Spartans. — [email protected]