Poverty to blame for increased gender based violence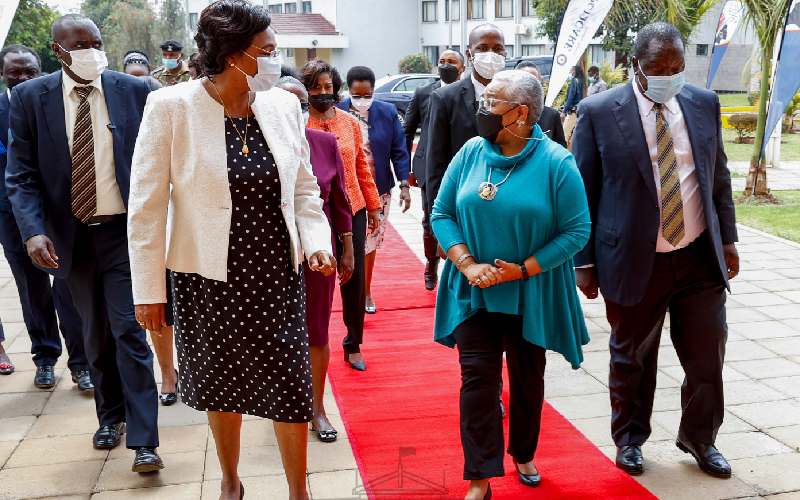 The government now says poverty is to blame for the current increase of gender-based violence.
Through Cabinet Secretary of Public Service Margaret Kobia, the government said there should be economic and social-political mechanisms that can enhance the fight against the vice
Kobia spoke during the launch of the Policare Policy at the Kenya School of government.
The policy seeks to enhance the National Police integrated response to incidences of gender-based violence.
Her sentiments were echoed by Interior CS Fred Matiang'i who said a time has come for all Kenyans to change their attitude towards police in the fight.
He said if the country was to win the war, every Kenyan must purpose to be involved.
"This policy is part of the ten-year battle with police reforms. As we seek to make the police the go-to people in all manner of help, all of us must however be involved to cover a wider ground," Matiang'i said.
He said the police leadership has already put mechanisms in place to ensure victims of this violence are effectively supported.
"We must fight together through broad-based coalition and enhance involvement of other stakeholders," he said.
First Lady Margaret Kenyatta in her remarks said the policy will play a key role in ending all forms of violence and forced marriages by 2026.
She appealed to the police to ensure all victims feel safe and secure even as they conduct investigations.
"Police and legislation alone cannot win the war amid customs and beliefs. Another challenge is the underreporting which has remained a major impediment to the efforts," she said.
Earlier in the year, the state raised concerns over increasing cases of gender-based violence.
The government said all Kenyans must be tolerant and find appropriate ways of solving differences rather than resorting to violence.
While saying the current Covid-19 was to blame, CS Kobia said at the end of 2020 some 5,009 gender-based violence cases were reported compared to the same period in 2019 with 1,411 cases.
"Between January and March 2021 we have already recorded 877 cases with a high prevalence in Nairobi, Kakamega, Kisumu, Nakuru and Kiambu Counties. As Government, we recognise that we cannot win the fight against GBV single-handedly therefore, we have to synergize efforts," Kobia said.
Kobia said, "We are appealing to the public to help complement the Government's efforts to fight GBV. We must all stand up against GBV through reporting, supporting victims and we must also discourage harmful and retrogressive cultural beliefs".
But the Human Rights Watch said the government was to be blamed for doing too little and being too late in responding to gender-based violence cases.
The NGO said the government failed to ensure services to prevent GBV and provide assistance to survivors under its Covid-19 response measures facilitated an increase in sexual and other violence against women and girls.
Agnes Odhiambo, a senior women's rights researcher said survivors face increased harm due to Kenyan authorities' failure to ensure they have access to comprehensive, quality and timely medical treatment, mental healthcare and protection services, financial assistance and to properly investigate and prosecute cases.
''The pandemic is not the first time Kenya has witnessed increases in violence against women and girls during crises. The government should have anticipated such an increase, but tragically as in the past, it turned a blind eye and failed to protect women and girls against violence," she said.