Man, 92, who's never gone to church or a funeral gets baptized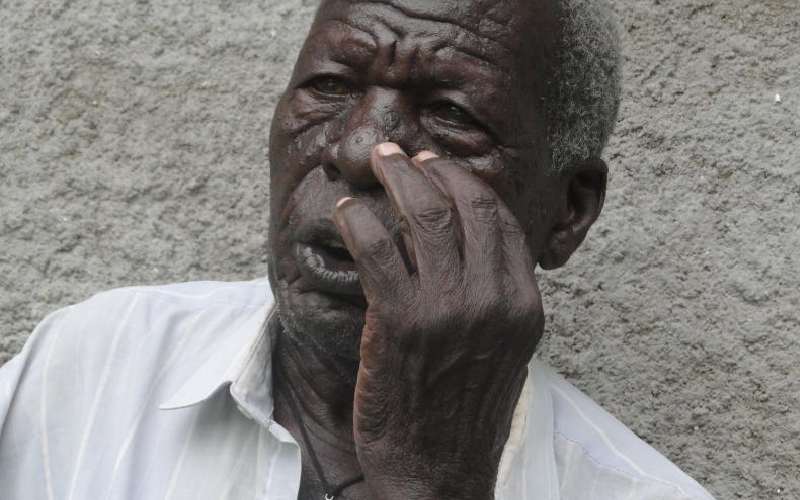 When Jim Cymbala, an American author and pastor of the Brooklyn Tabernacle said that when someone is healed or released from a life-controlling bondage, everyone takes notice, he perhaps had Owuor Nyapoya in mind.
And like the biblical Paul, Nyapoya was born as Saul, and did everything he could to try and stop the growth of Christianity.
Despite his family members and friends being staunch Christians, the old man has never gone to church or hospital.
"I had never imagined going to church because I never believed it was important even though I would give offerings to my family whenever they were going to church," he says.
But last Sunday, St Martin Catholic Church in Usenge received an unusual guest. Dressed in a white shirt, grey trouser and a pair of black shoes, the old man walked into the church to the surprise of many.
And when Father Stephen Ouma, the priest in charge of Usenge Parish decided to break the norms and baptized him as 'Paul', it was a moment of joy for the old man, whose eyes looked like they were activated by and opened to a heavenly realm people do not ordinarily see.
The priest said the veteran fisherman, who spent most of his life in Uganda, is the oldest person he has baptized.
Nyapoya decided to get his spiritual life sorted because he feels he is lucky to have lived this long.
"Not many people of my age survived the HIV and Aids pandemic because of the kind of lifestyle we lived. There was a lot of food, money and women," he recalls.
When Sunday Standard visited him at home in Nyangera village in Bondo Sub-county, Nyapoya whose gaze shimmered with a surreal glow, recalled how he resisted any attempt by family and friends to convince him to turn to God.
He says: "It wasn't easy to be told about God and church and I never attended funerals. My heart was full of hate and evil, but I've now started a new journey."
Nyapoya, who has never visited a hospital, says he never went to school because his father saw no importance of education.
"We were herding our father's animals and when I became an adult, I ventured into fishing because that was the only economic activity that majority were doing other than farming," he recalls.
With a baptismal medal on his neck, Nyapoya said it was a thoughtful gift that he will always be proud of.
"This man had never shown faith and when he accepted to be converted, I had to take it as it is," said Father Ouma, adding that it was common knowledge that the old man be baptized.
He explains that he decided to baptize him as Paul to bring the essence of change.
"Paul was up and down but finally saw the light and changed. This old man gave a consent and I had no option but to prepare him to the kingdom of God," says Father Ouma.
The priest, who terms this as an inspiration, added that Nyapoya was not only baptised with water, but also given a baptismal medal for achieving Christian faith. Father Ouma noted that while some of Nyapoya's agemates opted to go to school in order to learn how to read and write, Nyapoya opted to seek salvation.
He added that an old man like Nyapoya cannot be taken through the catechism process before being baptised.
"Others are common knowledge that drove me to baptize him because salvation of the soul should be the priority then the rest we can teach him," he said.