Why is it that parents, teachers varsities are not so ready for CBC?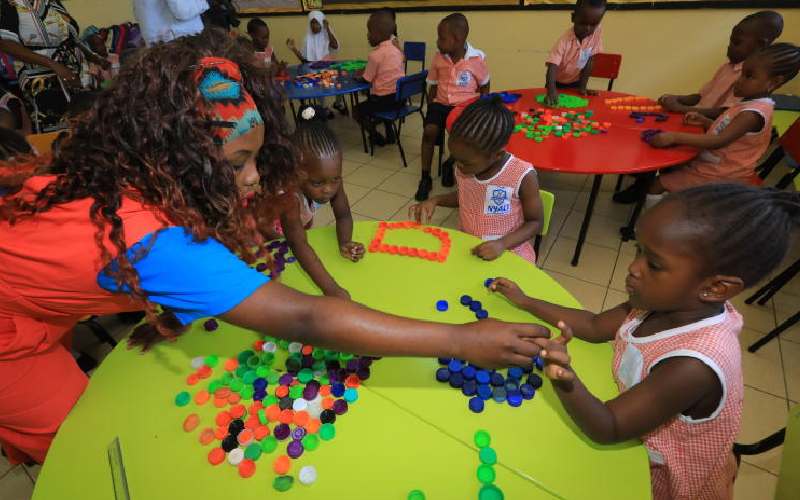 It is not easy to do away with an education system that has been in place for 36 years and has shaped the destiny of millions of scholars.
With only 16 months before the first cohort of the new system joins junior secondary, doubts linger as to whether the country is ready for the big jump.
On one hand, some stakeholders feel the transition ought to be suspended. On the other, the government insists that the teething problems are expected in any curriculum reforms and that plans are underway to rectify them and steady the ship.
The national rollout of Competency Based Curriculum (CBC) started in January 2019 at Pre-Primary I and II and Grades 1, 2 and 3 in lower primary.
The pioneers moved to Grade 5 last month when schools opened for first term under the new academic calendar.
The 2-6-3-3-3 curriculum was billed as the ultimate game changer in the country's education as it seeks to plug gaps noted under the 8-4-4 system of rote learning and cut-throat examinations.
Skeptics who want the penultimate phase of transition delayed, cite teacher preparedness, cost implications and financing, infrastructure and staffing needs that still hound the curriculum billed as skills oriented, offering practical solutions to children learning and future jobs and careers.
The rollout has been complicated by the Covid-19 pandemic, which has created new demands for space and additional facilities for a safe learning environment.
Whether plans have been set in motion to anchor the learners' pathways and if the centres of excellence to nurture learners' talents have been identified still remain unknown.
And for progression, questions are still being raised whether teachers' capacity have been enhanced to ensure the new school-based assessment model is not abused.
Level of involvement of universities and middle-level colleges to embrace the anticipated changes and whether activities have been started by these institutions to receive learners, also remain unclear.
Experts who spoke with The Sunday Standard say the CBC is facing many challenges. They say its success will depend on acceptance and happiness levels of stakeholders.
Dr Lukoye Atwoli, Dean of Medical College at Aga Khan University, says the curriculum has flopped.
"It is okay to say we goofed. We made a mistake. We are sorry. We changed the system of education before we were ready," says Dr Atwoli.
He says the curriculum is widening the gap between the rich and the poor, arguing that it is imprudent "to keep insisting on implementing an inequitable system of education that only serves to widen the gap between the haves and the have-nots."
Kennedy Echesa, a lecturer at the University of Nairobi, says the country is not ready for CBC and wants it dropped all together.
"We are not anywhere near in meeting the demands of this curriculum. The stakeholders involved such as parents are not well trained to support the CBC," says Echesa.
Another critic of the system, Nominated MP Wilson Sossion, also a member of the National Assembly Education Committee, says the curriculum is for the rich and requires heavy financial investment.
"It is not late to scale the CBC reforms to a review because it is expensive and not sustainable," says Sossion.
Primary school teachers who are presently the main focus, admit implementation has had challenges that must be addressed.
Johnston Nzioka, Kenya Primary School Heads Association (Kepsha) national chairman, says more teachers should be re-trained to handle the CBC classes.
Nzioka says assessments under CBC should be streamlined to portray a true picture of what is being evaluated.
"The costs involved, grading and proper record keeping are a challenge for the true picture at the end of the day. And CBC is also a little bit more involving to parents than the 8-4-4 system," he says.
Parents are already raising concerns over their role in the implementation of the CBC and are afraid that there are hidden costs, going by their experiences so far. They fear these costs may escalate as their children progress higher in the CBC ladder.
Their collective voice is captured by chairman of National Parents Association, Nicholas Maiyo, who says proper parental orientation is yet to take place.
"Some parents still have to invest heavily on children's homework and assignments. Some have bought computers, printers and a number of expensive auxiliary gadgets just to help their children learn," says Maiyo.
In some cases, he observes, parents have been asked to buy up to three books for a single subject.
Some course books, parents complain, are not only expensive but are designed for single use, meaning a parent has to keep going to the shops to buy the exercise books from publishers.
At the higher level, universities and middle-level colleges are expressing doubts on their preparedness, and worry that they have not been adequately involved in the planning and rollout of the CBC.
Universities are expected to review the existing curricular and align them with the Basic Education Curriculum Framework (BECF) and the national agenda.
Implementation roadmap requires that university academic programmes be reviewed to align with the three pathways offered at senior secondary schools.
Rationalisation of lecturers' recruitment to meet the changing educational needs and reorienting the existing staff to align with CBC are also expected to be done at university level.
Commission for University Education (CUE) Chairman Chacha Nyaigoti acknowledged the slow pace of embracing change by the institutions of higher learning.
"Universities must now prepare so that they are not caught pants down. They must come together and discuss to understand what CBC is all about and then review what they are currently doing to align with expectations of students when they join," says Prof Chacha.
Prof Fatuma Chege, the Principal Secretary in the new State Department for Implementation of Curriculum Reforms, however says workshops for deans of schools of education are underway to address their preparedness for teachers in 2023.
"We shall be meeting vice chancellors' committee so that they also start planning," says Prof Chege.
Special needs education officials have also raised concerns over their specific challenges.
"Publishers are avoiding special needs education books because the profit margin is thin. KICD (Kenya Institute of Curriculum Development) should consider going beyond their mandate to address this challenge," says Peter Sitienei, Special School Heads Association chairman.
But the government is unwavering. Chege whose office is tasked with the implementation oversight says the government has set in motion solid structures.
"We have created structures and systems that will enable us to oversee the implementation of the CBC through quality assurance and monitoring and evaluation," she says.
The PS says a multi-agency technical committee is being set up and will comprise working groups from semi-autonomous government agencies (Sagas).
The Sagas under the Ministry of Education are Teachers Service Commission (TSC), National Examinations Council (Knec), Kenya Education Management Institute (Kemi), KICD and Centre for Mathematics, Science and Technology Education in Africa (Cemastea) and universities and colleges.
"These institutions will have working groups and their focus will be the implementation of CBC within their contexts. The technical committee members will be sharing feedback from their contexts and if there are any issues emerging they are addressed," says Chege, who will chair the team.
She says a national steering committee comprising chief executives of the education agencies, development partners, faith-based organisations, parents and heads associations will also be set up and will be chaired by the Cabinet Secretary for Education.
"The findings of the technical multi-agency team will be shared with the national steering committee for approvals to help create ownership of CBC," says Chege.
The PS says induction meetings have been held and the technical working groups have started working.
But some stakeholders are unimpressed. Emmanuel Manyasa, Executive Director Usawa Agenda argues that CBC problems begun with failure to state its true cost and the apportionment of the expenses to the stakeholders.
"We need to know how much is required and what part of it will be shared by stakeholders, especially the government and parents. For now, parents are not fully aware of their costs to meet and this could be exploited," says Manyasa.
He says the CBC cost and how it is shared must be revealed to enable tracking of the funds.
"…so that we can know in the first three years this is what we required and this is what we received. And parents who are not able to shoulder their part must also be addressed," says Manyasa.
Moses Ayier, a high school teacher, says no activities are taking place in secondary schools in readiness for the learners from primary.
"If the transition is not well checked the implementation may die at the secondary stage. Nearly a third of schools in Kenya are underdeveloped in terms of infrastructure, hence strain and stress on the existing resources," says Ayier.
He says secondary school teachers are yet to understand the principles of CBC.
"They must intensify in-service training in anticipation of the first cohort in 2023. We also need to develop sports academies or talent academies. We must also develop technical schools fully equipped with enough personnel," says Ayier.
Primary school teachers said they are burdened and learners overloaded.
"There are more assignments outside the classroom and even to carry home. These assignments demand that the learner buys a number of items like extra files, pens, pencils, exercise books, moulders, text books and many others," says a primary school teacher.
The teacher says the CBC also overworks them. "The evaluation process is tiring – forget about filing, grading and ranking. It places the teacher in a more confusing state since most of the outcomes cannot be measured quantitatively. The focus is more on morals and charity," he says.
TSC Chief Executive Officer Nancy Macharia said it is posting some 8,914 new teachers to schools to ease the curriculum delivery burden.
Manyasa says the school-based assessments may be abused by teachers if transition is not well harmonised and teachers' capacities built.
However, according to Dr Macharia, there is no need to worry as TSC has trained more than 90,000 teachers in readiness for the rollout of the CBC in Grade 5 this term.