Kenya's most attractive universities revealed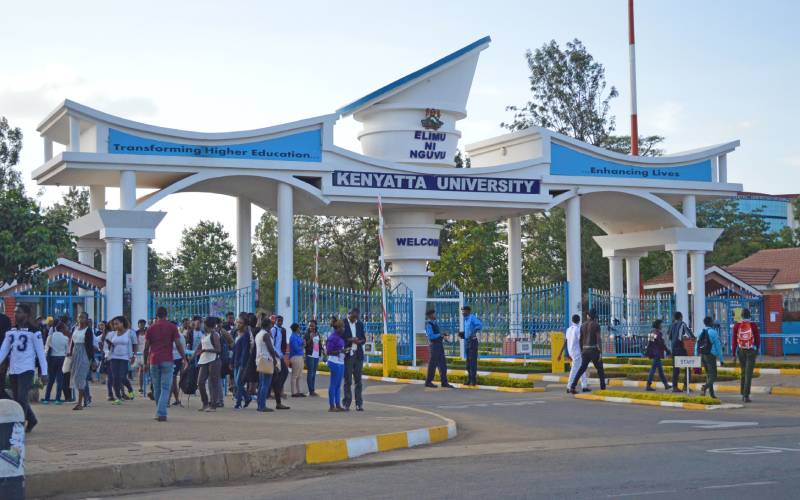 Universities that attracted the highest number of students have emerged as the competitiveness of the institutions of higher learning is revealed.
Details by Kenya Universities and Colleges Central Placement Service (KUCCPS) shows that some universities received so many students that they nearly filled up their declared capacities. While others were not even half full.
1. Kenyatta University. KUCCPS data shows that the varsity received 6,733, being the highest number of students allocated this year.
The university had declared a total capacity of 6,894, which means that just a small fraction of the institutions capacity has not been filled up.
2. Maseno University had a total of 6,659 students placed. The university had declared a total capacity of 7,740.
3. Jomo Kenyatta University of Agriculture and Technology (JKUAT) received 6,529 students against its total declared capacity of 7,151.
4. The University of Nairobi got 6,407 students against its total declared capacity of 6, 536.
5. Mount Kenya University received some 5,584 students. The university had declared a total capacity of 6,420.
6. Moi university received 5, 187 students against its declared capacity of 5,460.
These top universities have over the years dominated international web ranking emerging among the top ten nationally.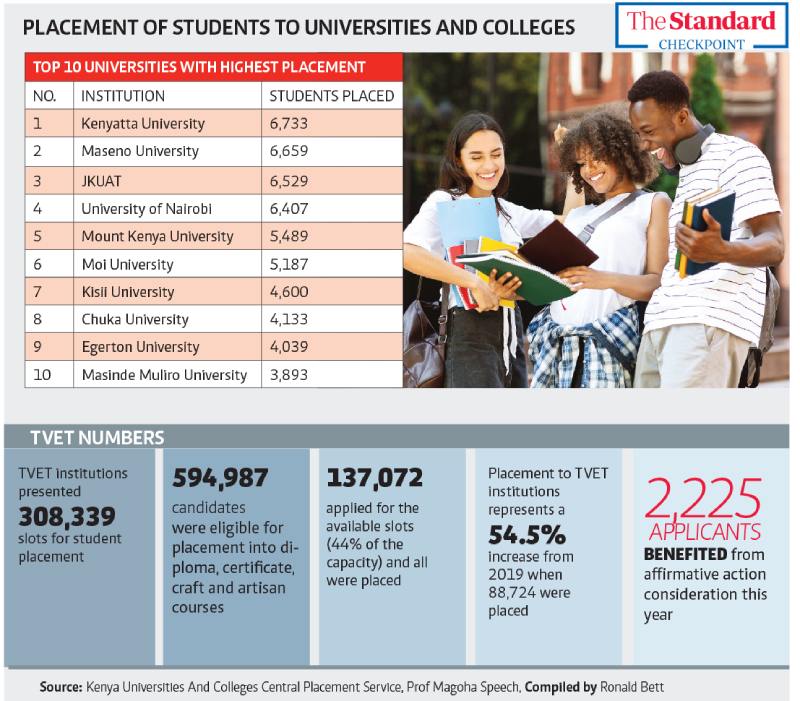 During last year's Webometric Ranking, where universities are assessed in three critical categories of impact, openness and excellence, the institutions scoped top slots nationally.
Commission for University Education (CUE) has in the past encouraged universities to embrace international ranking, saying it raises the institutions standing on compliance with quality and standards.
Internationally, universities are ranked on five broad parameters — teaching, research, citations, international outlook and industry income.
However, Daystar University, Technical University of Kenya, Multimedia University of Kenya, University of Nairobi, Kenyatta University, Moi University, Dedan Kimathi University, Technical University of Mombasa, and African Nazarene University received at least 90 per cent of capacities they declared.
Some of these universities declared just a small number of available capacities, translating to high percentage allocations even for smaller numbers.
Overall, the data means that the courses mounted by the least sought universities were not attractive enough to the students, a development that also dents the institutions public image.
It also means that the most sought universities have mounted the competitive courses and have also done well in annual ranking by some of the international agencies.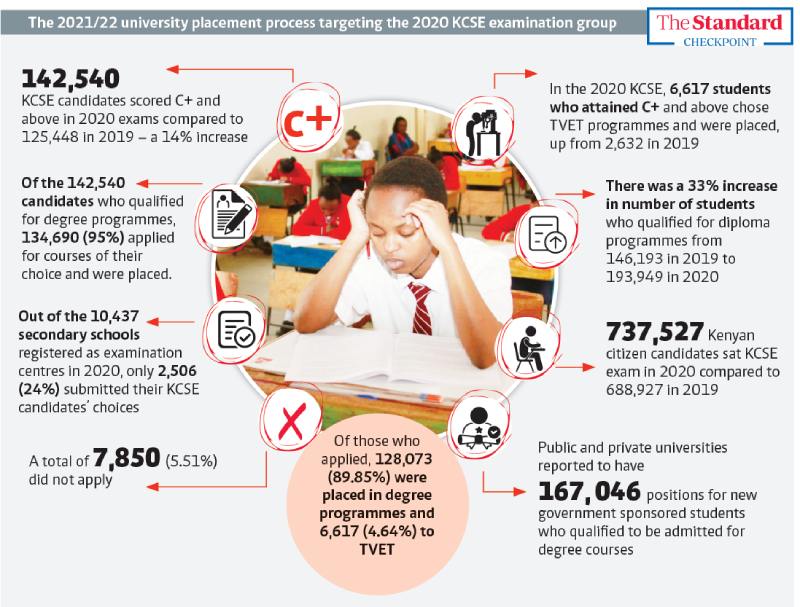 The nature of programs offered in various universities is largely determined by the nature of the institutions' establishment, market forces, availability of resources, controls by professional bodies, availability and adequate space, facilities and teaching staff.
Once KUCCPS opens the portal for courses applications, in addition to their performance, students select courses based on a number of reasons among them the competitiveness of the programme, image of the university and availability of space.
Other universities that received a high number of students are Kisii University with 4,600, Chuka University with 4,133 and Egerton with 4,039. Masinde Muliro University of Science and Technology got 3,893 as Kirinyaga University received 3,142 closing the top ten universities that received the highest number of students during this year's placement.
On the other hand, Amref International University received 71 students, being the least number allocated.
Uzima University received 195 students as Marist International University College got 218 students.
The East African University was allocated 286 students, Tangaza University College got 319 students as Koitaleel Samoei University College was allocated 327 students. Taita Taveta University received 524 as Gretsa University got 593.