Ruto's dilemma: Make UDA a big political tent or go for coalitions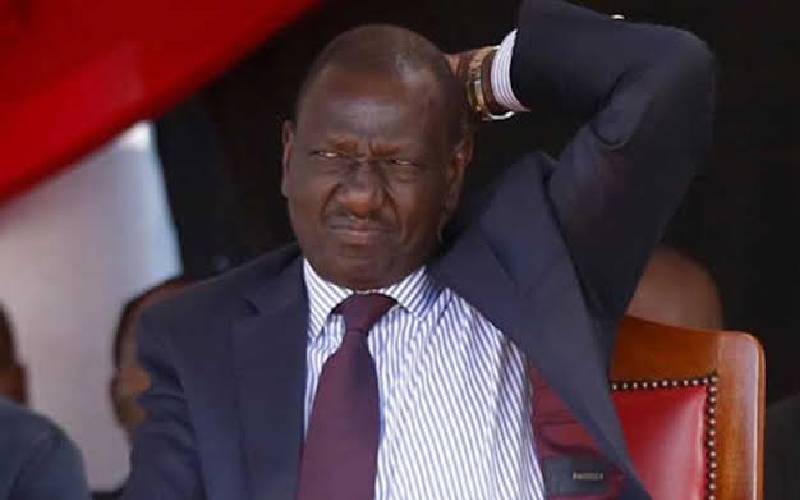 Deputy President William Ruto has chided 'politics of alliance making' and vowed to build United Democratic Alliance (UDA) to be the next 'big tent' political party to replace floundering Jubilee Party.
As he ramps up his campaign to succeed President Uhuru Kenyatta, Ruto has been consistent on his message – alliances are tribal. The DP has been spurned by Jubilee, the party he and President Kenyatta built from alliance of parties that made up the Jubilee Coalition in 2012.
But Ruto is in a dilemma. He is hounded on one side by the increasing certainty that he could be forced into a coalition to shore up his efforts to capture power or stick to building UDA into a big tent party to accommodate all who support him.
The DP is positioning UDA as a catch-all outfit that will serve the broad spectrum of interests from the hustlers reeling from economic disenfranchisement and tribalism. He hopes his supporters will coalesce around the idea of transforming the economy to invest more in the bottom rungs.
But in demonising political alliances – a cornerstone of Kenya's politics since the promulgation of the Constitution, is Ruto boxing himself into a corner?
Forced into a coalition
Political analysts believe he is, and argue that the DP would eventually be forced into a coalition.
David Monda, a professor of Political Science at the City University of New York's believes that the constitutional requirement that a presidential candidate acquires 25 per cent of the votes in at least 47 counties almost certainly forces candidates into coalitions.
Prof Monda says the requirement was deliberate to avoid regional candidates. "It forces candidates to form coalitions that mirror the face of Kenya in terms of bringing candidates on board that will appeal to the widest portion of the national electorate."
The DP's commitment to going into the 2022 contest without a coalition will be put to test as his challengers unite to pick a candidate and with the backing of President Kenyatta. But Ruto is brimming with confidence and enthusiasm.
"As our brothers organise themselves to acquire power, positions and any other thing they are planning for, we will wait for them at the ballot," Ruto said last week in Karen.
The statement was delivered in Kiswahili in Ruto's classic dismissive style.
"Not all leaders are brave enough to talk about politics that is not tribal and which does not rely on alliances," Ruto told leaders from Eastern Kenya.
The DP has given little of the direction he wants to take with UDA, even as he made it clear that his time in Jubilee is all but over. He is, however, building a case against any alliances.
"We have a framed contest, the people of Kenya will choose between making peace of the mediocrity of tribal alliances that benefit leaders through position sharing and power-sharing and the economic revolution that we are driving as the hustler nation," he said.
In UDA, Ruto sees a fully formed organisation that can accommodate those who back his bid and share his vision. But in attempting to create another big tent party, Ruto risks falling into the same trap that claimed Jubilee.
The One Kenya Alliance (OKA) which brings together Wiper, ANC, Kanu and Ford Kenya is on the table hoping to reach a consensus on their candidate. But Ruto's team is already showing some stress, especially in Mt Kenya, which is central to Ruto's State House bid.
Three Mt Kenya leaders - Narc Kenya leader Martha Karua, her The Service Party (TSP) counterpart Mwangi Kiunjuri and Chama Cha Kazi's Moses Kuria - have unveiled plans for a Mt Kenya caucus to chart the region's political future ahead. While the trio could still rally the region to support Ruto's bid, that decision is still out there. Prof Monda says such a move could be injurious to Ruto.
"What works in Ruto's favour is that the OKA, ODM, Wiper, ANC, Kanu and Ford Kenya are hopelessly divided over who should carry the banner for president. To succeed, the anti-Ruto team need to hang together or they will hang separately," he said.
Ruto's strategy, he says, could be to have his allies like Kuria and Kiunjuri of TSP fold their parties and join UDA. He argues that compared to UDA, the affiliate parties are minnows.
"Their best bet is to go with Ruto because the anti-Ruto alliance is already full, with multiple suitors to executive power," he said.
Kiharu MP Ndindi Nyoro, DP's ally, discounted the idea that the DP was averse to coalitions. Mr Nyoro said UDA in itself was a coalition of Kenyans with a common interest in changing their economic fortunes.
"We are not saying we do not need any other input," he said.
But he also said they see UDA as an alliance that captured all of Kenya's interests.
"Coalitions will not last if they are only centred on what leader will get which position. The common good of the people has to come first," he said.
Analysts say Ruto's drive to create large tent umbrella party politics stems from financial muscle and a relatable rallying call. Monda says Ruto has two advantages: his massive war chest to fund a large tent umbrella party. Secondly, the power of his hustler brand of politics.
"This brand of politics has moved the channel of political mobilisation from ethnic identities to economic necessities," he said.
But he adds that the DP's best bet is to have the hustler narrative snowball into a national wave. That the election gets framed as one of the dynastic - haves (minority) on one side, against the hustlers (majority) - have nots on the other.
"Ruto will be playing to the politics of economic populism (inclusion) on one side, against the dynasties economic elitism (exclusion) on the other. There is still a long way to go to August 2022," he adds.
But in dismissing political alliances as tribal conglomerations that are after power access power for dynastic oligarchs that have no interest in economic inclusion of the hustlers, that is Kenya's poorest.
"He is positioning himself as a politician committed against politics of alliance or tribal conglomeration, to one supporting creating a large tent umbrella party politics," he says.