DPP Noordin Haji: Dossier I have on DCJ Philomena Mwilu will shock you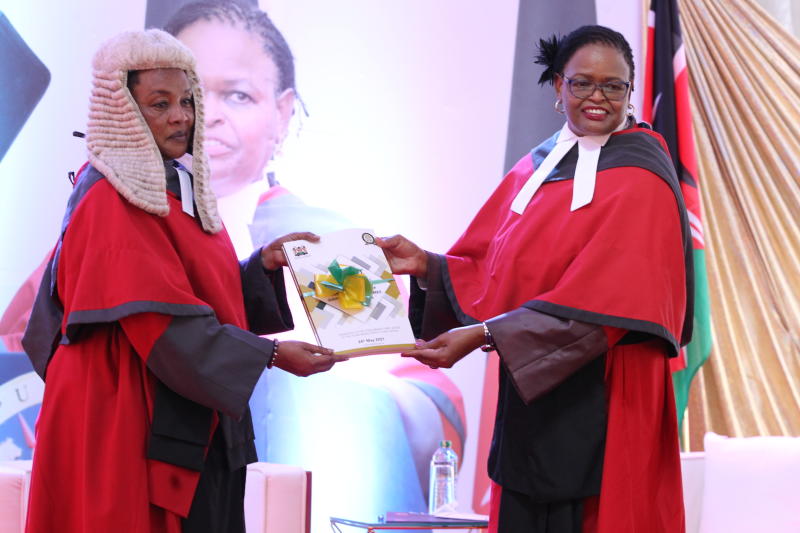 Deputy Chief Justice Philomena Mwilu has been taking Judicial Service Commission in circles to avoid answering to four petitions filed before it seeking her removal, the High Court heard yesterday.
When responding to case file by Mwilu, opposing the hearing of four petitions seeking her removal, Director of Public Prosecution Noordin Haji said that he has a big dossier on the judiciary's second in command which he is yet to make public.
During the hearing before High Court Judges Weldon Korir, Said Chitembwe and Roseline Aburilli, the DPP argued that what the public knows is just a speck of what he has against her.
"The first interested party has not disclosed the entire dossier against the petitioner," senior assistant DPP Alexander Muteti argued.
Meanwhile, JSC lawyers Paul Muite and Charles Kanjama yesterday argued that Justice Mwilu has to date never replied to the allegations filed against her by Director of Public Prosecution Noordin Haji and Directorate of Criminal Investigations (DCI) George Kinoti despite being given an opportunity to reply. Instead, the two lawyers argued, she moved to court seeking to bar JSC from hearing the petitions to the conclusion.
Justice Mwilu is a member of the commission which is now headed by Chief Justice Martha Koome. The commission accuses her of also stalling an appeal filed before Court of Appeal where she allegedly informed the court that it could not proceed as JSC was already determining the allegations.
"Until today, the petitioner is yet to respond to the substance of allegations against her. What she did instead is file two preliminary objections contending that the matters raised in the petitions were subjudice because they related to a pending appeal. She also claimed that they were a collateral attempt to overturn the decision of the high court," Kanjama argued.
Three judges heard that JSC had given Mwilu 21 days to reply to the claims filed against her. It is then she raised an objection, opposing the presence of Attorney General Kihara Kariuki and Law Society of Kenya (LSK) male representative Macharia Njeru. In her case, Mwilu complains that her goose is cooked before JSC. She argued that Justice Kihara is biased for being a chair multi-agency team.
On Macharia, she accused him of lobbying for her removal. According to her, she heard that he was discussing that Court of Appeal should expedite the appeals filed by Haji. At the same time, she argued that the claims touched on the case she had filed and won. According to Justice Mwilu's lawyers James Orengo, Julie Soweto, Jackson Awele. Prof Ben Sihanya and Nelson Havi, the High Court quashed the charges and therefore there was nothing left to complain about.
Justices Hellen Omondi, Mumbi Ngugi, Francis Tuiyott, Chacha Mwita and William Musyoka quashed the charges against her. However, JSC says she is running away from answering to claims against her. According to Kanjama, she has mounted a hurdle after another hurdle, delaying determination of the petitions.
While defending Kihara and Macharia, he argued that JSC first agreed that since the petitions involved a senior judge, they would be heard by the entire commission, instead of committees. He says she has no evidence against the two. At the same time, Muite argued that although the High Court quashed the charges, it never quashed the petitions. According to him, the court was clear that the route was JSC before a decision is made to try a judge before the magistrates court.
"The petitioners has been running in circles all intended that she will never be asked to respond to the allegations. This court is now being asked to quash the complaints which the petitioner has never responded to." "She wants to ensure that she does not answer to the merit of the complaints. Was there inappropriate calls to a person facing criminal charges? Only her can answer that," Muite argued.
Meanwhile, Haji argued that he was just following court orders by filing petition for Mwilu's removal from office. He argued that the appeal he filed against the judgment by the five judges can run concurrently with the petition against her.
"Our having petitioned the JSC was in accordance with judgment law," senior assistant DPP Victor Owiti argued.
Mr Muteti told the court that Haji's complaint was about Mwilu's misconduct and misbehaviour. He asserted that judges should allow his petition run a full course before the JSC.
"You cannot direct JSC on how it conducts its business," Muteti argued adding that Mwilu has a chance to raise her complaints before the commission.
"A lot of weight has been placed on the petitions by the first and second interested parties. However, there are other petitions before the commission," he continued.