Fast changing loyalties: From Uhuru's PA to his fiercest critic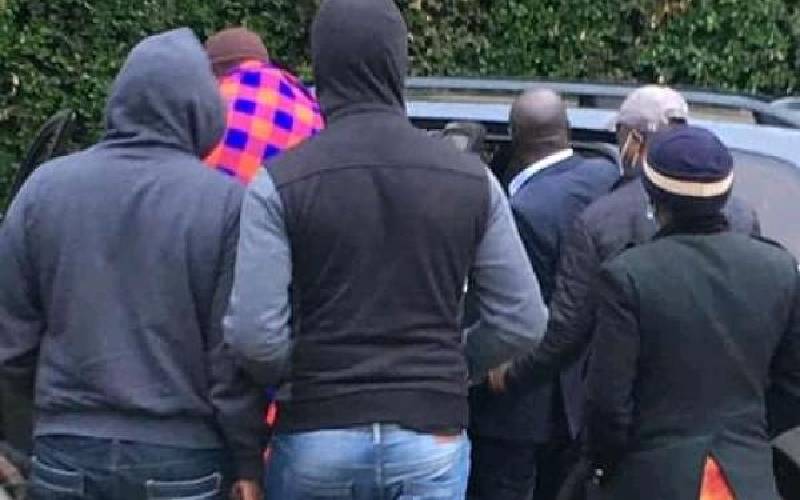 Depending on whom you ask, there are several versions of Rigathi Gachagua, the Mathira MP who was arrested by detectives yesterday.
To his constituents, some of whom poured out into the Nyeri-Nairobi highway in Karatina town and lit tyres to protest his arrest, Rigathi is a charmer, generous and a bit of a rebel.
To them, he is not only Rigathi but Kanda ya Wira – a workman.
But put that description to ward representatives in Nyeri County who served with Rigathi's brother, the late Nyeri Governor Nderitu Gachagua, and you will see another picture of the legislator.
To those former MCAs, Rigathi is a thorn in the flesh. An entitled and arrogant man who used his brother's hospitalisation to run the county government like his own business, a pseudo governor.
Then he was mostly heard. A political power broker who evoked a feeling of mystique, comfortable in the shadows of Nderitu Gachagua and building political machinery that won him the seat in 2017.
He is a straight shooter and fierce critic of President Uhuru Kenyatta, his former boss, as he had served as his Personal Assistant (PA), and now a close ally of Deputy President William Ruto.
A key driver of the Hustler movement, Rigathi has never shied away from saying it as it is. Although he is a first-term MP, he has cut his niche as a serious Mt Kenya leader.
In 2016, a blogger had her day in court for posting on social media allegations that Rigathi was sabotaging development projects in Mathira Constituency.
In the second count, Martha Miano was charged with referring to Rigathi as "a gun for hire and a political broker".
Money laundering
She pleaded not guilty to posting the messages.
The Directorate of Criminal Investigations (DCI) suspects Rigathi of financial impropriety. The detectives have been on his trail since last year, accusing him of money laundering.
The government in 2020 filed a motion to seize more than Sh200 million in his accounts.
The Asset Recovery Agency (ARA) Director, then Muthoni Kimani, claimed the cash in three separate accounts was acquired through corrupt practices and should be forfeited to the State.
According to ARA, Rigathi's three personal accounts conducted a series of suspicious debit transactions amounting to Sh7.3 billion and a total credit of Sh12.5 billion between 2013 and 2020, which they believe are proceeds of crime.
The legislator was yesterday picked up by DCI officers from his home in Nyeri at 6am and driven to Nairobi.
But he says the charge against him was politically motivated and being used to harass him for his political stand.
"I am happy it is finally over. It has been two years of hell; being arrested and released, writing countless statements, being prosecuted in the media, intimidation and harassment to me and family," he tweeted yesterday.
Since his election to the National Assembly in 2017 and especially since the 2018 Handshake between President Kenyatta and ODM leader Raila Odinga, Rigathi has become one of the president's fiercest critics.
Between 2001 and 2006, he was Uhuru's PA for five years. He has also worked with him in politics for decades, cementing a close relationship.
Rigathi worked as an Assistant Secretary in the Ministry of Home Affairs between 1989 and 1990.
In 1990, he was recruited as a district officer (DO) cadet and underwent training at the Administration Police Institute (paramilitary training) and the Kenya School of Government (Advanced Public Administration, 1999-2000). He served in the provincial administration as a DO for 14 years in various areas, including Kirinyaga, Kiambaa, Limuru, Ng'arua, Kakamega and Garissa, with a short break as PA to the Head of Public Service (1991-93).
Ragathi claimed that after Uhuru lost the 2002 presidential election, his elder brother and former ministers John Michuki and Njenga Karume approached him to dump Uhuru and take up a PS position, but he declined and stood with then official opposition leader.
But today, the Mathira MP blames his tribulations on his opposition to the president's leadership style and ailing economy. He has also faulted the push for a constitutional change through the Building Bridges Initiative (BBI), saying it upstaged the Big Four Agenda, which was the promise of the Jubilee administration in 2017 General Election.
Rigathi claims his arrest has little to do with fighting corruption, adding that the government is unhappy with the loss of the Kiambaa by-election and is taking it out on him.
"Though I played a minimal role, I had no vote. Will you arrest all voters of Kiambaa? Kiambaa was just a tip of the iceberg, the handshake state faces a humiliating defeat in 2022," he tweeted yesterday.
"In the fullness of time, my innocence will be pronounced. I am not cowed or intimidated."
Rigathi, who would plan Uhuru's daily engagements, is now Ruto's point man in Mt Kenya.
The outspoken MP said it is Uhuru who introduced him to Ruto in 2002 and since then a close relationship has developed.
"I like Ruto and his economic revival plan. I believe it will better lives in Mount Kenya and the country at large, and I will vouch for him anytime," he told The Saturday Standard sometime back.
He said that while in Kanu he was the arbiter of Uhuru and Ruto when they differed a few times.
"There was one occasion the two had disagreed while still in Kanu when Uhuru moved to support Kibaki and Ruto gravitated towards Raila. I would be the go-between in such departures," said Rigathi.