John Ogweno's widows meet at his burial, eulogise him as 'loving, caring'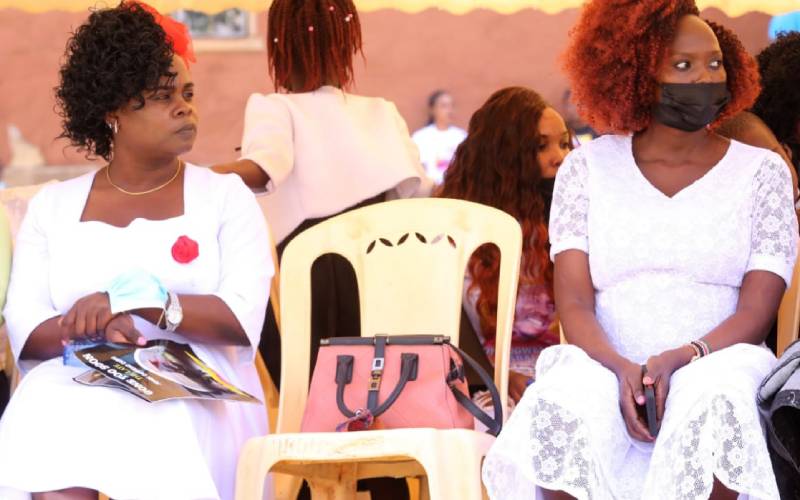 John Ogweno's widows, Juliet Ogweno and Audrey Chelagat, were grief-stricken as the 30-year-old police officer was on Friday laid to rest at his parents' home in Sengre Village, Rachuonyo East Sub-County in Homa Bay County.
Juliet eulogised Ogweno as a "loving and caring husband".
"He was a really good person. I don't know how my life without him would be like; now and in the future," said Juliet, who was married to Ogweno since 2013.
Ogweno's second wife, Audrey Chelagat, was deeply affected by his demise, and chose not to speak at the burial when she was invited to the podium.
Until the burial, it wasn't in public domain that Ogweno had two spouses.
Chelagat, a youthful woman, met Ogweno in 2018, when the father-of-three was posted to Londiani in Kericho County.
The pair wedded traditionally in 2018, but did not have children together.
The deceased had two young children – a son and a daughter – with his first wife, Juliet.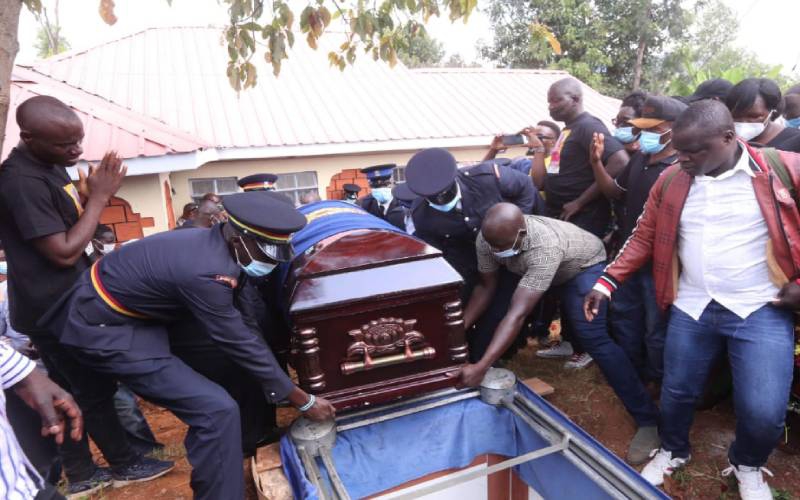 DIG Mbugua: Ogweno was hardworking
Ogweno's burial was attended by, among others, Nakuru East Sub-County Police Commander Phantom Analo and Homa Bay Woman Representative Gladys Wanga.
Analo read out the speech by Deputy Inspector-General of Police Edward Mbugua, who eulogised Ogweno as a "hardworking officer, whose character was plausible."
In her speech, Gladys Wanga urged the Interior ministry to set aside funds that would help police officers with mental health problems seek treatment.
Ogweno's father, Edward Ouru Ombai, eulogised his son as a "peace-loving person".
"He was sociable and very hardworking," said Ombai.
Fred Okello, a Sengre Village resident, said Ogweno was a role model to many young people in the area.
"He was my childhood friend. How he led his life was so admirable, and most of us were looking up to him," said Okello.
At 3pm, Ogweno's remains were lowered into his grave, triggering deep grief among his family members, widows and friends.
The family said they were hoping to get closure on why Ogweno was murdered.
It is alleged Ogweno's colleague at Nakuru and lover (now late), Caroline Kangogo, shot him dead on July 4 over reasons yet to be known.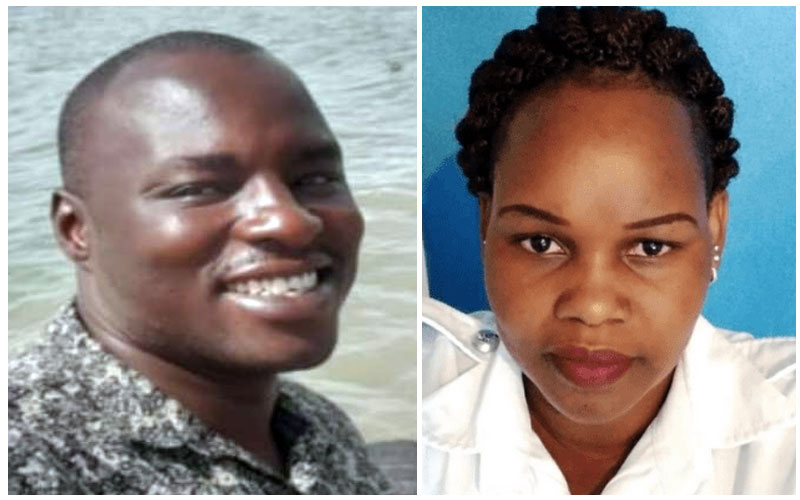 Ogweno's death investigation file is still open, with police saying they would help the family get the needed closure.
The investigating officer probing Ogweno's killing also attended his burial.
John Ogweno: the family man who left manager job for police service
John Ogweno was a mid-level manager, when he jumped ship and joined the National Police Service in 2015.
He had served as the South Nyanza regional operations manager for Modern Coast bus company for a year before trying his hand at law enforcement. At the bus firm, he ensured smooth operations of the Modern Coast fleet in Kisii, Migori, Homa Bay and Nyamira counties. Ogweno was headquartered in Kisii Town.
The 30-year-old man pursued a Bachelor's Degree in Economics and Statistics at the University of Nairobi between 2010 and 2014, when he graduated with Second Class Honours (Upper Division).
A brilliant person, the alumnus of Chuka Boys' High School 2008 class would land a job with the long distance transport company almost immediately after graduating from the UoN.
At Chuka School, he scored a B+ (Plus) in the 2008 Kenya Certificate of Secondary Education (KCSE) examination.
Ogweno's family told The Standard that the tricenarian wanted a "more intriguing and involving job", and was enrolled into the National Police Service when the opportunity presented itself in 2015.
He now bore the title constable, and was posted to Londiani and Nyagacho stations in Kericho County before being transferred to Nakuru Central post, where he was allegedly felled by Caroline Kangogo, said to be his lover.
His father, Edward Ouru Ombai, described Ogweno as a man "who tried as much as possible to avoid confrontation", and when the confrontations proved regular, "he'd cut ties with you for good."
"My son and controversy couldn't fit in one sentence," Ombai told The Standard at his Sengre Village home in Rachuonyo East Sub-County on July 7.
"If you were a troublemaker, he'll cut ties with you… easily, and for good," said Ombai.
"His calm way of resolving issues, made it very hard for him to retaliate through violence," added Ombai. "We're yet to understand what caused the fatal incident between him and the female police officer."
The father and son spoke on phone on the night of July 4, twelve hours before news broke that Ogweno had been killed.
Ombai described his firstborn in a family of three children as a "development-oriented person", who was committed to diversifying his sources of income.
"He was supposed to come home this week (between July 5 and July 12) to supervise the installation of a water tank in my homestead," said Ombai.
"I also serve in the police service. I'm stationed at Loitoktok, Kajiado County, which is far away from home. So, my son John, who was closer home, would travel often to ensure everything was okay," he said.
Prior to his death, Ogweno had bought land at Ringa trading centre, where he'd planned to construct commercial residential property. He'd also planned to put up a petrol station in the area.
"I'm scheduled to retire next year. I was hoping my son would take over the family businesses from me. Unfortunately, he is no more."
Ogweno is survived by two widows and three children; two with his first wife, Juliet Ogweno, and one from a past relationship.
Ogweno was on July 5 found murdered in his car at the Kasarani police line in Nakuru Town. He had a gunshot wound in the head.
Police suspected Corporal Caroline Kangogo, who the deceased was allegedly dating, was behind Ogweno's murder.
Kangogo was also linked to the killing of another man, Peter Ndwiga Njiru, whose body was found in a Juja lodging in Kiambu County on July 5. It was alleged the suspect checked into the guest room with Ndwiga that evening.
The following day, the 32-year-old man was found murdered, with a gunshot wound in his head.
Caroline Kangogo, who had been on the run for nearly two weeks, was on July 16 found dead inside a bathroom at her parents' homestead in Iten, Elgeyo-Marakwet County.
It is believed she orchestrated the murders of Ogweno and Ndwiga, and eventually committed suicide due to marital frustrations.
In a letter said to have been written by Kangogo, the corporal asked for forgiveness for killing Ogweno, but said she was unremorseful for murdering Ndwiga, whom she accused of conning her out of Sh1.5 million.
Kangogo's family on Friday, July 23, told The Standard that the deceased mother-of-two would be buried at her parents' Nyawa Village home in Tambach, Elgeyo Marakwet on Saturday, July 24.
A postmortem on Kangogo's body, which had been scheduled for Friday, July 23, did not take place, with a section of family members saying they would proceed with the burial even without the conducting of autopsy.

John Ogweno was buried at his parents' home in Rachuonyo East, Homa Bay County on Friday, July 23. [Collins Oduor, Standard]